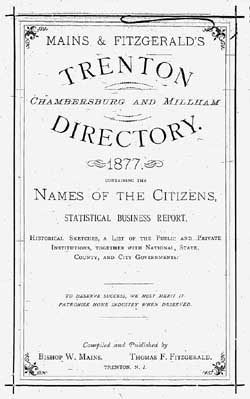 The 1877 Trenton Directory:
Table of Contents, Advertiser Index & Ads (Pages 1 - 19)
Historical Sketch, Government, Church & Newspaper Info, etc. (48 - 92)
Wards and Streets (98 - 106)
Individual Listings (Pages 107 - 364):
At the urgent request of many citizens, we have omitted the names of ladies generally, except widows, those who are in business, and the heads of families. Neither have we, except in a few instances, given the names of any male inhabitants under twenty-one years of age.
Additions, Removals & Corrections (Pages 365- 367)
Ads (Pages 368 - 372)
ABBREVIATIONS USED IN THIS VOLUME.- Ab., above; al., alley; av., avenue; adj., adjoining; bds., boards; bel., below; bet., between; cor., corner; ct., court; do., ditto; E., east; ft., foot; h., house; la., lane; n., near; N., north; opp., opposite; prop., proprietor; r., rear; rd., road; res., residence; R. R., railroad; S., south; sq., square; W., west. The word street is implied.