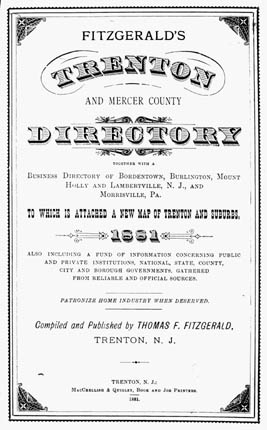 The 1881 Trenton Directory:
Table of Contents, Advertiser Index & Ads (Pages 1 - 9)
Business Directory of Trenton, Chambersburg & Suburbs (Pages 10-37)
History of Trenton, Government Info, Streets, etc. (48 - 92)
Individual Listings (Pages 93 - 401):
Farmer & Business Directory of Mercer County (Pages 402 - 428)
Business Directory of Burlington County, Lambertville & Morrisville, Pa. (Pages 429 - 453)
ABBREVIATIONS USED IN THIS VOLUME.- Ab., above; al., alley; av., avenue; adj., adjoining; bds., boards; bel., below; bet., between; cor., corner; ct., court; do., ditto; E., east; ft., foot; h., house; la., lane; n., near; N., north; opp., opposite; prop., proprietor; r., rear; rd., road; res., residence; R. R., railroad; S., south; sq., square; W., west. The word street is implied.