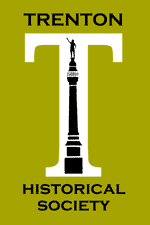 TRENTON STONEWARE POTTERY

Trenton was America's premier pottery production center for many years. Many people equate Trenton pottery with fine china produced by Lenox or ornamental pieces such as those produced by Stangl and Boehm; however, many fine, if simple, pieces were produced for more common usage as storage vessels. Below are some representative pieces of this earlier style of utilitarian stoneware pottery.

This bristol glaze jug with cobalt script was used by an old Trenton firm that continued on into the twentieth century when it was best known for its brand of soda.

The firm of Phares & Swayze was apparently short-lived although Phares continued on as a grocer in Trenton for many years. This crock with its cover still intact has a salt glaze.

A local ale & mead dealer, Morton Richardson used this salt glaze bottle with its name embossed along with the date of 1854.

Although worn, the embossed name of J.C Thomas is still clearly visible on this bristol glaze jug with a flower design. This firm was a local distributor of glazed pottery produced by the Fulper pottery.

This J.C Thomas jar is unfortunately missing its lid.

This salt glaze bottle is unmarked.

This salt glaze jug dates from the late 1870s or 1880s.
Up To Top / Home
The Society : About Us / Artifacts Committee / Education Committee / Preservation Committee / Membership / Contact Us / Events
Our History : Sights & Sounds / 1929 History / Old & New / Hill Diaries / Chronological Indexes / Trenton Made / Documents / Tours
Your Ancestors : Research Services / Obituaries / City Directories / High School Yearbooks / Cemeteries / Genealogy
The City : Buildings / Historic Districts / North Ward Survey / Street Names / Local Links
Search Our Site