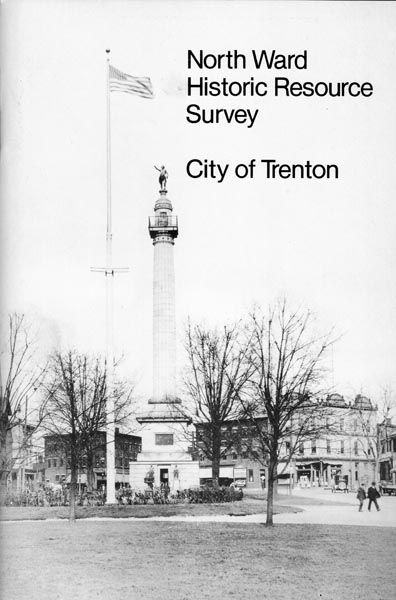 NORTH WARD HISTORIC RESOURCE SURVEY
TABLE OF CONTENTS
INTRODUCTION
SURVEY AREAS/COMMUNITIES:
        HISTORIC DISTRICTS & WATERFRONT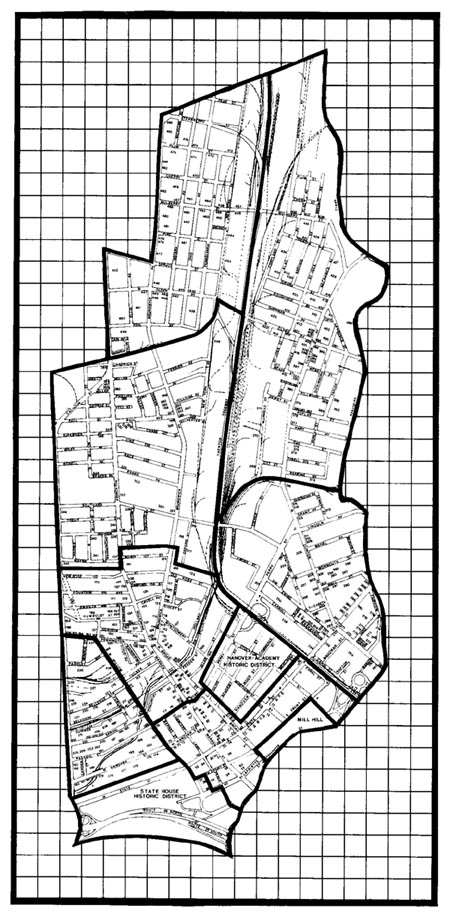 (click on this North Ward map for a larger image)
INTRODUCTION
Preservation, the alternative to the destruction and disfiguration of our community's older structures, provides the key to our city's successful revitalization. Looking closely at the buildings that surround us, we see their irreplaceable richness and variety. These qualities give older structures their value and significance.
Throughout history, the character of buildings has changed, reflecting the taste, technology and culture of their times. As our lifestyle changes, these physical mementos of bygone eras acquire added importance making them worthy of preservation.
Preservation, therefore, does not only apply to a few isolated monuments, but to an increasingly broad spectrum of buildings that constitute our environment. We must value our more recent heritage and insure its preservation for future generations.
Preservation addresses a variety of other factors. Is the building representative of the period in which it was constructed? Is it in some way especially unique or advanced? Does it contain any ornamentation or detailed craftsmanship that would be irreplaceable today? Does the individual building play a supportive role contributing to the streetscape? Preservation used as a planning strategy can help define groups of significant buildings or districts, such as Mill Hill and the State House Historic Districts; the identified areas can form the basis of a neighborhood revitalization effort.
The survey is the foundation of ongoing preservation activity. It identifies and examines buildings of architectural merit worthy of preservation. This booklet is the result of the city's survey of the North Ward. Combining traditional history with the physical artifacts of that history, the booklet studies each of the North Ward's historical communities providing a background narrative accompanied by a listing of significant buildings. A more detailed description and statement of significance for these structures is in the companion handbooks.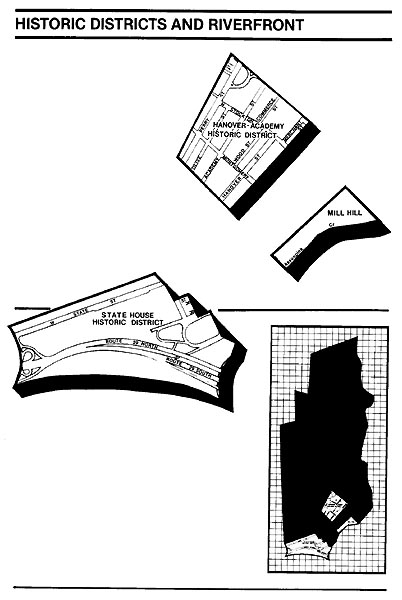 HISTORIC DISTRICTS AND RIVERFRONT
The existing Academy-Hanover Historic District, and the parts of the State House and Mill Hill Historic Districts which lie in the North Ward have already been surveyed and have received only cursory consideration in this survey. Land along the Delaware River south of the State House Historic District has been considered independently of any other area.
The Academy-Hanover Historic District consists of one of Trenton's oldest residential neighborhoods. It includes the east-west streets of East Hanover, laid out about 1735, Academy, laid out about 1774, and Perry, laid out in 1814. Although development began as early as the mid-eighteenth century, growth was slow until the opening of Perry Street - which quickly became more populous than the older streets. Perry Street served as the important link between Warren Street and the Millham Road and acquired a partial commercial character. East Hanover Street, adjacent to the downtown, became popular for professional offices. An industrial zone developed at the eastern edge of the neighborhood along the canal. For the most part, however, the area has always been residential. Great growth in population and housing occurred between 1850 and 1880 when nearly all lots were developed.
Notable institutions have been founded and have flourished within the district boundaries. The Trenton Academy preparatory school (1782-1884) and the Joseph Wood Public School (1857-1932) were two of Trenton's premier educational institutions. They have been replaced by the building of the Trenton Free Public Library. Trenton's earliest "church," the Friend's Meeting House on East Hanover Street still stands (1739 with alterations). The First Methodist, Central Baptist and Trinity Episcopal Churches were at one time located in the neighborhood.
Mid-nineteenth century Perry Street was a focus of Trenton's small black community. Mount Zion A.M.E. Church, founded in 1816 on the present site, is Trenton's oldest black organization. A sizeable Jewish community was active in the area.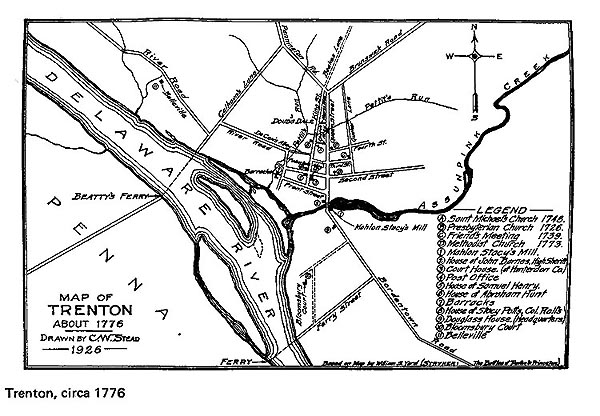 The neighborhood retains its original character with residential streets lined largely with brick row houses - interrupted by a few more high-style homes, small office and commercial buildings, and institutional structures. Few of the buildings are notable solely on their own merits. But the totality constitutes a representative mixed-class neighborhood of the nineteenth century. Although in need of revitalization, the Academy-Hanover Historic District remains one of Trenton's oldest and most ethnically and physically diverse neighborhoods.
The State House Historic District includes structures on Willow Street and on West State Street, from Willow Street extending a short distance into the West Ward beyond Calhoun Street. The first ironworks in New Jersey (established by Benjamin Yard), and the Old Barracks and Old Masonic Hall were located in the area before the end of the eighteenth century. The construction of the New Jersey State House on an extension of Second Street (State) in 1791 ensured further development. South Willow Street acquired a cluster of institutional buildings, while West State Street developed toward the west throughout the nineteenth century as Trenton's most fashionable residential street.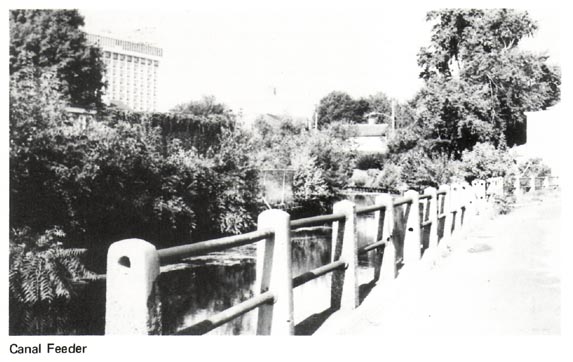 Early homes were modest; but this district is a rare instance of residential redevelopment in Trenton as the original houses were often replaced by more pretentious structures. In its present manifestation, West State Street contains worthy buildings representing nearly every significant nineteenth century architectural style. The more outstanding houses are the Greek Revival Joseph Wood House, the Italianate Contemporary Club, and the Romanesque Roebling Row. These are all closely set townhouse-type structures. (A series of freestanding deeply set back mansions formerly stood on the south side of the street. These have all been demolished.)
The State House, though repeatedly altered and expanded, is the country's second oldest state capital still in use, dominating the street with its curious nearly freestanding golden dome.
At the corner of West State Street and South Willow Street is the Kelsey Building, an individualistic Italianate essay originally designed for the School of Industrial Arts by Cass Gilbert. It features excellent terra cotta tile and metal work and a tile roof. The monumental Beaux Arts 1929 Masonic Temple and War Memorial Building face South Willow Street in counterpoint to the eighteenth century Old Barracks and Old Masonic Hall.
Land between the State House Historic District and the Delaware River lies apart from North Ward neighborhoods and historic districts. In the eighteenth century, this land was traversed by the stream known as Petit's Run, becoming Trenton's first industrial district with establishments such as Stacy Pott's steelworks. The opening of the "Sanhican Creek" water power raceway parallel to the river spawned further industrial growth. Industry remained in the area well into the twentieth century, as did the swampy riverfront lowlands which comprised much of the remaining acreage.
In 1911, efforts to develop the area as a riverfront park began with the construction of a retaining wall and landscaping. The eventual result was Mahlon Stacy Park. The park, with its trees, paths, and concert bandshell became popular with Trentonians as a pleasure ground for strolling and entertainment. In recent years, the row of mansions which faced West State Street has been replaced by the New Jersey State Cultural Center.
At the very southwestern edge of the North Ward, the Calhoun Street Bridge crosses the Delaware River. Erected in 1885 by the Trenton City Bridge Company, the Calhoun Street bridge is a rare surviving example of a long Pratt truss bridge. It is listed on the National Register of Historic Places. With the exception of Roebling's Lackawaxen Aqueduct, it is the oldest bridge spanning the Delaware River.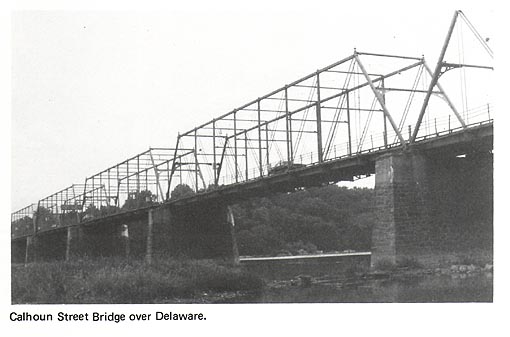 A small portion of the Mill Hill Historic District lies in the North Ward, while the remainder is in the South Ward. The area in question lies just north of the Assunpink Creek between South Broad and South Stockton Streets. Mahlon Stacy's original mill was in the vicinity, and the Second Battle of Trenton was fought over the Broad Street bridge over the Assunpink. A narrow seam between the Downtown and the Mill Hill Mercer-Jackson Streets neighborhood, the area has no particularly significant community identity of its own.
This small strip along Front Street is now divided from the Downtown by parking lots and linked to Mill Hill by the park along the creek. It includes noteworthy structures such as the oft-moved eighteenth century Douglas House, the former Lutheran Church of Our Saviour, presently adaptively reused as the Mill Hill Community Playhouse, distinctive townhouses of a number of eclectic stylistic variations, contemporary housing for the elderly, and a monumental statue of George Washington.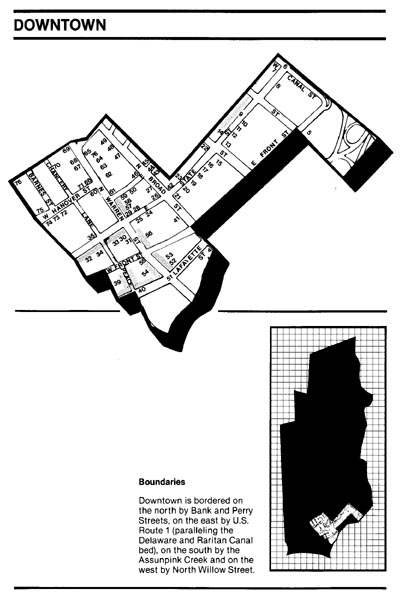 DOWNTOWN
History & Development
All of Trenton was contained in the downtown area during the eighteenth century. Open land, farms, and woodland surrounded this compact village. Until the mid-nineteenth century, the history and development of Downtown was nearly synonymous with the history and development of Trenton itself.
In 1748, Peter Kalm, a visitor from Sweden, described the town as follows:
"October the 28th. Trenton is a long narrow town . . . It has small churches. The houses are partly built of stone, though most of them are made of wood planks, commonly two stories high, together with a cellar below the building, and a kitchen under ground, close to the cellar. These houses stand at a moderate distance from one another. They are commonly built so that the street passes along one side of the houses, while gardens with different dimensions bound the other side . . . Our landlord told us that twenty-two years ago, when he settled here, there was hardly more than one house; but from that time Trenton has increased so much that there are at present near a hundred houses."  1
As Kalm's diary indicates, houses comprised the largest share of the building stock. A small enclave of simplified Federal and Italianate row houses along Peace Street and Lafayette Street (#39, #40) still retains a residential character. In most of the downtown area, however, houses were gradually replaced or converted to non-residential uses, especially as the ground floors gave way to storefronts. The Federal and Italianate structures lining Warren Street between Front and Lafayette Streets (#52, #54) are perhaps most representative of this phenomenon. A few blocks north, the imposing Centennial Row (#48) on North Broad Street is a prominent late nineteenth century example of more elaborate Italianate residences. 2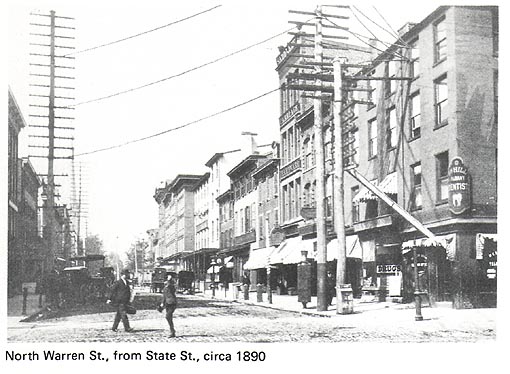 Change has steadily continued, and downtown is the only section of Trenton where it is not uncommon for a given parcel of land to have supported more than one generation of structures. Until the mid-nineteenth century, the downtown remained a mix of residential, commercial, institutional and some industrial uses. Trenton's buildings have evolved through the years reflecting the dynamic nature of the downtown's social, institutional and commercial life.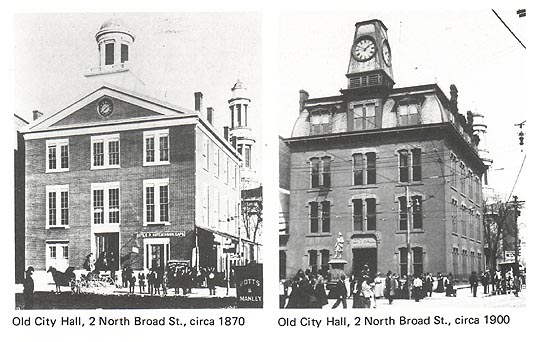 Transportation
Transportation was one of the single most powerful factors giving direction to the City's growth. In the early eighteenth century, Trenton served as an important transportation center with stage service between Trenton and Philadelphia; service to New Brunswick and New York followed shortly thereafter. Initially, the stage route ran directly through town on Queen Street, which later became known as Greene Street and finally Broad Street. By the late eighteenth century, however, the route had been altered; drivers turned west at Second Street (State Street) and then north on King Street (Warren Street) 3 This new route established a new axis of urban development marked by taverns and inns, churches, the county courthouse, leading businesses, and the town street market. 4 However, by the mid-nineteenth century, Queen Street (Broad Street) had begun to surpass King Street (Warren Street) in importance, becoming the City's principal street. At the turn of the century, State Street became the City's main business street. As transportation developed technologically, it had a dramatic influence on the City's growth. The development of canals, railroads and street-cars, and the dispersal of industry and population that resulted, transformed downtown almost entirely into a commercial and institutional center.
Social Life
Prior to this more sophisticated, urban life-style, the village was a major crossroads with many taverns and inns catering to travelers and residents. Village life revolved around taverns as well as the market place, churches, fraternal organizations, and theater.
The taverns and inns offered food, drink, and fellowship, providing ideal meeting places. In 1784, at the French Arms Tavern at King and Second Streets, Congress met to deliberate naming Trenton the capital city of the nation. Trenton served only briefly as the presidential and cabinet seat for John Adams. The French Arms and later the Sign of the Golden Swan were each, for a time, Trenton's most suitable place for large gatherings. Other popularly frequented institutions included the Rising Sun, the Indian King, the Phoenix Hotel, and the City Hotel, all on King Street (Warren Street). Today, the Trenton House (#59), the American Hotel (#60), and the Sign of the Golden Swan (#55) remain standing. A Federal style building originally built probably as a residence in 1815 served as the Golden Swan Tavern between 1826 and 1855. It then served as newspaper offices of the True American, predecessor to the Trenton Times, and is presently a custom tailor shop. At the corner of North Warren and Hanover Streets, the American Hotel, dating from 1847, has accommodated such luminaries as President James K. Polk and Daniel Webster. One of the country's most historic hotels, the Trenton House stands across the street. The Tremont House (#7), built in 1847 at the corner of East State and Canal Streets, served travelers on the Camden and Amboy Railroad.
For Trentonians, day to day activity revolved around the street market place. Complete with whipping post, stocks and town pump, it was a favorite place for meeting friends and hearing the latest gossip. An early nineteenth century observer wrote in the State Gazette:
"A Saturday night in Trenton seems to be particularly appropriate to promenading . . . seven hundred and fourteen persons passed the corner of Warren and Second (State) from 8 o'clock to 10 last Saturday night. Some with a lady on each arm; others admirably paired off, and hundreds were promenading single handed and alone. The industrious mechanic, with his neatly dressed wife - on one arm, and a capacious market basket on the other - making his purchases . . . ." 5
Besides good conversation and comraderie, the market stalls offered a wide choice of provisions. Commercial activity began in shops like that of gunsmith John Fitch, who later was to launch the first successful steamboat. His shop was located on King Street (Warren Street), as was the general provisions store of the leading merchant, Abraham Hunt. 6
The churches, likewise, provided fellowship and served as meeting places. Prominent churches included St. Michael's Episcopal (#65) "The English Church" 1784, the First Presbyterian Church (#23) 1728, the First Methodist (#41), St. Mary's Cathedral (#69), and St. Francis Roman Catholic Church (#36). While these congregations still have prominent buildings in the downtown, only St. Michael's remains in its original building, although in a much altered form. St. Michael's Church on North Warren Street was originally constructed in 1748, and subsequently rebuilt a number of times. 7 The present facade, dating from 1851, is a fine and rare example of a castellated Gothic Revival design. The Classical Revival First Presbyterian Church on East State Street (#23) dates from 1841. Both churches have flanking churchyards with gravestones dating from the eighteenth century. The daughter of Joseph Bonaparte is buried at St. Michael's; Colonel Rall and a handful of Hessians, and the first three mayors of Trenton are buried at the First Presbyterian. The brownstone former Third Presbyterian Church on North Warren Street was built in 1850 (#67); the St. Francis Roman Catholic Church building now sheathed with permastone, dates from 1841 (#30); the Romanesque First Methodist Church, a tall tile-faced building with Gothic detailing, dates from 1894 (#41).
Fraternal organizations also built prominent structures and contributed much to community life. The Masons, in particular, played a distinguished role in Trenton social and political life. Organizations such as the Elks (#62) and the Eagles (#65) established downtown lodges. The Elks Lodge is a romantic extravaganza of brick and stone with geometric tile inlays.
Theaters also emerged as a new focus of social life and entertainment during this period. The first large theatrical hall, the Taylor Opera House, opened in 1867; it became known for its vaudeville performances. Other halls followed, leading to extravagant movie "palaces" such as "The Trent" and "The Lincoln."
Government and Financial Institutions
Along with social activities, a number of both private and public institutions emerged as an integral part of downtown Trenton.
In 1719, Trenton became the county seat of Hunterdon County. Mercer County was created out of Hunterdon and a portion of Burlington Counties. The town's primary institutional building was the Hunterdon County Courthouse and Jail on King Street (Warren Street), built in 1730 (#56). In 1753 the townspeople saw construction completed on the first post office, also on King Street (Warren Street), and a school on Second Street (State Street).
Trenton's first City Hall (#42) built in 1836, holds a particular interest because of its metamorphosis. 8 Originally designed in the Federal Style, a French Second Empire mansard roof and clock tower as well as new fenestration and brick cladding were the results of a late nineteenth century remodeling. In its present form, the building stands without its tower while the upper floors' fenestration has given way to tall glass block panels. The first floor has been totally rebuilt.
During the late nineteenth century downtown Trenton also became a banking center. In fact, banks now assert the most commanding physical presence in the area, characterized by the dignified, stolid presence of a series of Classical/Beaux Arts structures. This academic style provided an appropriate iconography for banks, the financial pillars of the community. The greatest flourish of this style appears in the Trenton Savings Fund Society (#19) at 123 East State Street.
The monumental New Jersey National Bank building (#30), originally the First Mechanics National Bank, is located at the corner of West State and South Warren Streets. A prime example of downtown's continuous evolution, this structure is on the site of three generations of bank buildings. 9 Originally this corner was the site of the French Arms Tavern.
Neo-Classically detailed office towers above the main banking halls represent another type of bank structure. These office towers, downtown's tallest and most ambitious buildings, are often topped by massive advertising signs (#15, #35).
Downtown Today
Today, the physical character of eighteenth and nineteenth century downtown is most evident and best preserved on Warren Street. South Warren Street (#30, #52, #54, #55, #56) and North Warren Street between State and Bank-Perry Streets (#29, #57 through #69) boast architecturally varied streetscapes including churches (#65, #67, #69), former inns and hotels (#55, #59, #60), noteworthy Italianate commercial buildings (#30, #52, #54, #57, #63, #64, #66) and Trenton's most significant pressed metal facade at the True American Building (#58).
The mid-nineteenth century shift of preeminence from Warren Street to Broad Street is marked by buildings such as the large four story Italianate commercial structure bearing an 1856 datestone (#43).
Today, downtown commercial activity focuses around a two block pedestrian mall located on East State Street flanking Broad Street. The Commons contains a number of notable architectural compositions. At 9 East State Street (#25) a Victorian pressed metal ornamental facade dated 1896 is dominated by a more recent, yet significant porcelain enamel and neon Flagg Brothers Sign.
Across the street the McDonald's facade at 12-14 (#28), combines Art Deco and Classical motifs forming a uniquely modern composition. Once a Horn and Hardart this building has housed two generations of fast food establishments. The Commons also includes a simple Art Deco Woolworth's (#20) as well as the quietly modernistic Kresge Store (#21).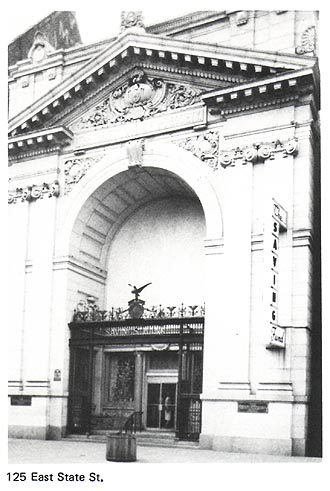 Although the street markets, the town pump, and the whipping posts have disappeared, the Commons possesses a special character all its own and provides the public with numerous shops.
Notes
1 Turk, "Trenton, New Jersey in the Nineteenth Century;" p. 60.
2 Centennial Row was erected by the Rev. Anthony Smith, a priest at St. Mary's Cathedral. See Walker, et. al., A History of Trenton, pp. 324-325.
3 Turk, "Trenton, New Jersey in the Nineteenth Century;" p. 44.
4 Harry J. Podmore "The Historic Five Points in Trenton;" The Silent Worker, Vol. 33, no. 2, November, 1924, p. 55.
5 Harry J. Podmore, Trenton Old and New (Trenton: Trenton Tercentenary Commission, 1964), p. 84.
6 Walker, et. al., A History of Trenton, pp. 107-108.
7 Hamilton A. Schuyler, A History of St. Michael's Church, (Princeton: Princeton University Press, 1926).
8 Podmore, Trenton Old and New, pp. 94-101.
9 Podmore, Trenton Old and New, pp. 59-64.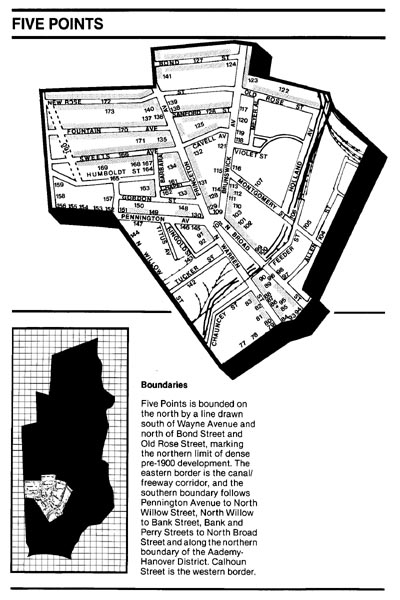 FIVE POINTS
The Five Points area focuses on the star-shaped configuration created by the convergence of five streets: Princeton, Pennington, and Brunswick Avenues and North Warren and North Broad Streets.
An entrance point to the City for most of Trenton's early history, it functioned as both gateway and community, dating back to the eighteenth century when King (North Warren) and Queen (North Broad) Streets were first laid out to converge north of the town leading to New Brunswick, Pennington, and Princeton. Historian Harry J. Podmore relates that, "Under the influence of traffic there came into existence at this gateway a little community with its quaint dwellings, taverns and shops. It became a little mart in itself:" 1 Furthermore:
"Through these highways came the early Dutch trader with his heavy pack, the stagecoach and lumbering freight wagon, the travelling showman and magician, the road circus and the postrider with the momentus news that patriot blood had been shed on the village green at Lexington and that Cornwallis had surrendered of Yorktown." 2
The American Revolution
Five Points saw more of the Revolution than just a postrider proclaiming news of the most recent battle. When the Continental forces made their surprise river crossing and early morning attack on the complacent Hessions at Trenton, General Washington and Major General Greene and his troops marched down Pennington Road and hurriedly set up six cannons at Five Points. From this vantage point, artillerymen directed fire down both King and Queen Streets toward the Hessians stationed in the center of town. Meanwhile, General Washington surveyed the scene from an elevated field beside Beake's Lane (Princeton Avenue at Fountain Avenue). The Hessians, unable to offer much organized resistance, withdrew to "The Swamp;" an area east of Montgomery Street; here they surrendered. 3 To commemorate the First Battle of Trenton on the strategic site where Continental cannons were stationed, a monument was constructed and dedicated with much fanfare in 1893. The Battle Monument, (#108) designed by John H. Duncan, F.A.I.A., the architect of Grant's Tomb, is a one hundred fifty foot high Roman Doric column set on a large pedestal with bronze reliefs surmounted by an observation platform capped by a statue of Washington. The Battle Monument remains one of the City's most imposing landmarks, anchoring the Five Points intersection and providing a focus for the North 25 Park.
At the same time of the Revolution, Five Points was already considered a small community. The house of Continental soldier Thomas Case, the Lamb Tavern, and the Sign of the Fox tavern, as well as other structures were located in the immediate vicinity. 4 Other shops and dwellings quickly appeared, erected on North Warren and North Broad Streets above Perry Street, connecting central Trenton with the Five Points community.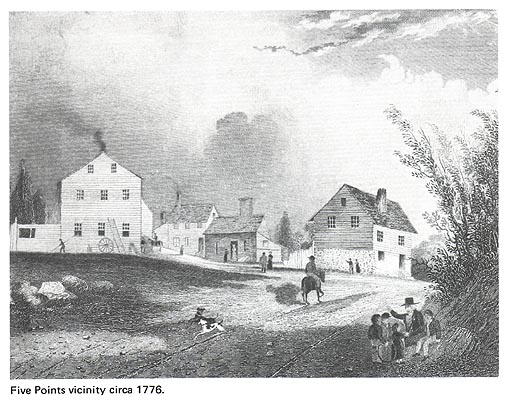 Manufacturing: Artisans to Industry
In the nineteenth century, the immediate Five Points vicinity evolved as a center for artisans. The Thomas Case house, at the fork of North Warren and North Broad Streets, became a blacksmith shop, and was later replaced by the Valentine Carriage and Wagon Works. A coffin maker and tin shop were located on North Warren Street and a wheelwright and blacksmith shop on Pennington Avenue specialized in wagon bodies for nearby brickyards. 5
Early small scale industries concentrated south of Five Points including a pottery to the rear of Lamb's Tavern, a tannery above Bank Street and a stone mill in "Honey Hollow" (east of North Willow Street by the Belvidere Division railroad). This mill was known as the "Coffee House" and was utilized for grinding spice and roasting coffee. A millpond on Petit's Run supplied a conduit which turned a paddle wheel which, in turn, powered the mill. Later, however, horse power was utilized with a "sweep," which proved an irresistible temptation to neighborhood boys for taking a ride. 6 However, as late as 1850, the Five Points area was surrounded to the north and to the west by open farm country and meandering livestock.
Among the later industries was The Fitzgibbons and Crisp Union Carriage Works (#77) established on Bank Street in 1868. The firm, housed in three and four story brick structures, was for many years a large producer of carriages, horse drawn trolley cars, and finally truck and automobiles bodies. The company, which exhibited at the Centennial Exhibition, was described as "one of the most complete" manufacturers of its kind in the country, ranking with the "great wagon manufacturers of the Northwest." 7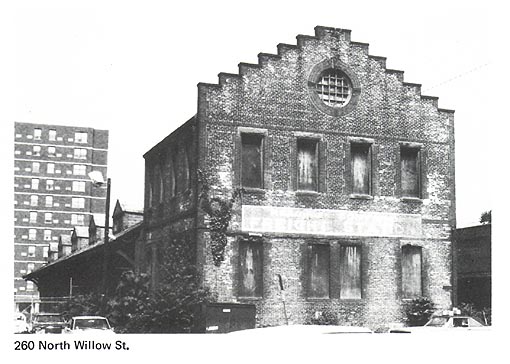 Because Five Points functioned as a commercial and popular gateway to Trenton from the start, it was only natural that construction of railroads with their freight and passenger depots near North Warren Street ensued. The Belvidere-Del aware Railroad (later the Pennsylvania Railroad line) was constructed in 1852; the Delaware and Bound Brook Railroad branch (later a Reading Company line) followed in 1876. Twelve years later the Philadelphia and Reading Freight Terminal (#143) was constructed serving the industry established in this area. The Terminal, a long elegant brick structure with a distinctive two story gable and office wing is the sole surviving nineteenth century railroad terminal in Trenton. As part of the North 25 Redevelopment area, it is being adaptively reused as a senior citizen center.
Residential Development
Land association and private developers subdivided land in the area in the second half of the nineteenth century. Harriet Wilkinson, for instance, whose son Ogden later became active in real estate development throughout Trenton, subdivided land along Rose Street and Fountain Avenue. Actual development usually involved individual lots and small tracts.
Generally, side streets feature densely-sited small, attached vernacular houses, while main streets such as North Warren Street, and Brunswick, Princeton and Pennington Avenues contain clusters of more sophisticated freestanding twin and row houses.
The most notable house on Princeton Avenue is the Fell homestead (#136) a showcase of brickwork created for Trenton's leading brickmaking family. Both the Queen Anne main house with its cross gables and two-tier corner porch, and the extraordinary outbuilding behind (#137), display elaborate brick and terra cotta ornamentation. The Fells built the sprawling Queen Anne twins at 144-154 Pennington Avenue (#152, #154, #155) in a variation of the style of their own home. 8
The richest collection of residential structures in the Five Points area is on North Warren Street above Perry Street (#81‑#90). These homes lined the important approach from Five Points along Warren Street into the downtown. Greek Revival, Italianate, Queen Anne, Neo-Renaissance, and other vernacular variations are represented. The large freestanding house at 221 North Warren Street (#80) was built in 1813 by Robert McNeely, mayor of Trenton from 1814 to 1832. A quite substantial house for the period, its simple Federal lines were "embellished" with Colonial Revival and Italianate details when remodeled in 1915. 9 The east-west connecting streets between Calhoun Street and Princeton Avenue, including Fountain (#170-#171) and Sweets Avenues (#166-#169) feature randomly intermixed, simple vernacular Greek Revival/Italianate, and Italianate/Gothic houses. These streets are so long and narrow that even the small two and three story houses create a modest "canyon effect."
The foremost rowhouse groups are 612-626 (#141) Princeton Avenue, with dormers and unusual cutout detailing and a quite different group at 116-124 Brunswick Avenue (#110) with orange brickwork and contrasting brownstone trim.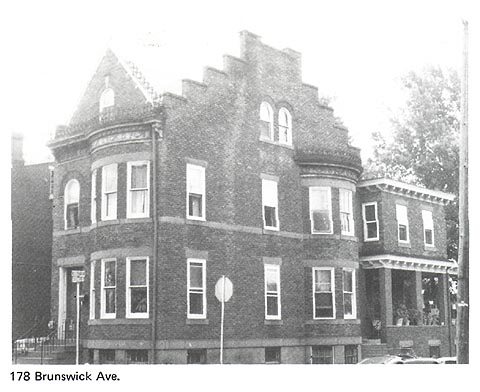 On Brunswick Avenue opposite Cavell Street a residential cluster of more high style character and variety includes a freestanding Second Empire structure at 194, (#120) a pre-1850 Greek Revival twin at 184-186 (#117) (an Italianate third floor has been added at 186), an Italianate townhouse at 182, (#117) and a large eclectic rusticated-brick house at 178 (#118) featuring stepped gables and rounded bays, and brownstone, pressed metal, wood and wrought iron detailing.
Community Institutions
During its history, many different ethnic groups have inhabited the Five Points area and maintained community institutions. During the eighteenth century the English settled the area. As the area developed, Five Points was settled by Blacks in the area east of Montgomery Street, (known as "the Swamp") and by Irish in the vicinity of Bond Street.
The communities maintained a vital volunteer fire department, the Harmony Volunteer Fire Department Company located on Tucker Street. Five Points also supported an Orthopaedic Hospital housed in several locations before construction of a building on Brunswick Avenue in the early twentieth century. This simple yet formal Art Deco building on Brunswick Avenue (#121) was erected on the site of the Charles May Mansion which had been adapted to serve as a hospital.
The Orthopaedic Hospital's services were later merged with Mercer Hospital. The Lincoln Public School (#107), a handsome Mediterranean adaptation of the Romanesque style was built expressly for black children in 1924.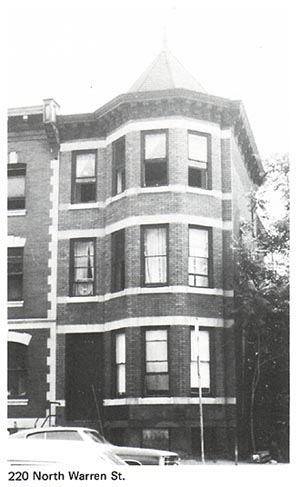 The community also built several churches. The Fifth Presbyterian Church (#131) on Princeton Avenue, a picturesque Victorian Gothic complex, has become the Galilee Baptist Church. Our Lady of Divine Shepherd (#149), a granite Neo-Classical structure on Pennington Avenue, was originally constructed as a lodge.
Notes
1 Podmore, "The Historic Five Points in Trenton."
2 Podmore, Trenton Old and New, p. 11.
3 Walker, et. al., A History of Trenton, pp. 149-166.
4 Podmore, Trenton Old and New, pp. 9-15.
5 Harry J. Podmore, "Head of Town," State Gazette, January 26, 1910.
6 Harry J. Podmore, "Head of Town," State Gazette, March 29, 1920.
7 Department of Planning and Development, City of Trenton, An Inventory of Historic   Engineering and Industrial Sites Trenton N.J. (Trenton: City of Trenton, 1975), pp. 32-33.
8 Land Development Map; "Trenton in Bygone Days;" Trenton Sunday Times-Advertiser,   Sept. 22, 1940, (Trenton in Bygone Days, Vol. 3, p. 127).
9 Vertical File: Fraternal Organizations - Knights of Columbus, (Trentoniana Collection,   Trenton Free Public Library, Trenton, New Jersey).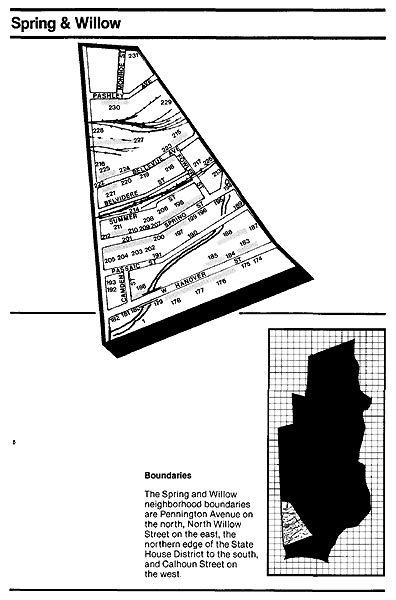 SPRING AND WILLOW
The Spring-Willow Street area was quite rural during the Revolutionary War period. Its leading street, River Road, now supplanted by Hanover Street, was a mere country lane through the woods. However, the area did play an important role in the Battle of Trenton when General Sullivan of the Continental Army marched through it on Pennington Road and Willow Street, forcing the Hessians into crossfire from the Continental Army's positions in the adjacent Five Points area. 1
After the Revolution, in 1790, Trenton was named the state capital, and during this period, several streets, including West State Street, were laid out. Calhoun Lane was also created on a north-south line from Pennington Road to Beatty's Ferry on the Delaware River, providing a link to Pennsylvania.
The Roads to Commerce
With the establishment of State Street, River Road became a primary route for the local construction industry which transported the stone quarried amid farms and open land west of Willow Street. Because of its direct route and proximity to the quarries, by the mid nineteenth century, River Road became known as Quarry Street (later West Hanover). The "flinty grey stone" quarried was used originally for such structures as the Old Barracks and the building at 48-50 Passaic Street (#191), the oldest building in the Spring-Willow area. 2 Now divided as three dwelling units, it was originally a barn, and probably dates from the days of land ownership of the Higbee family. Built of stone, and sited on a hillside, the structure had a stable entrance on the downhill side, as well as a carriage entrance at the second floor. Defined by Calhoun and North Willow Streets, the open fields in which the barn stood were divided from east to west by the canal feeders, railroads and streets.
During the early nineteenth century, commercial activity shifted from actual quarrying to stone cutting and dressing. By 1834, construction of the navigable Delaware and Raritan Canal Feeder facilitated shipments from the outlying quarries to the Quarry Street stone yards. John Grant operated the foremost yard on a large tract north of Quarry Street (West Hanover), adjacent to the canal feeder. Brownstone was quarried near Wilburtha and transported by canal to the Grant stone yard, where it was cut, dressed and sold for construction throughout Trenton and elsewhere. At the peak of operations, the Grant yard handled. thousands of tons of stone at a time, utilizing its own fleet of canal and river barges. 3 The feeder also served as a location for other industries including the Star Chain Works and the Blackfan and Wilkinson coal and lumber yards.
The advent of the railroads in 1852 and 1876 resulted in two east-west right-of-ways and additional industrial development north of Quarry Street. Both railroads have been largely removed leaving a narrow grassy depression between Belvidere and Summer Streets and open land which has been redeveloped as the North 25 housing project (#227). A remnant of the days of railroad and industry is the former Wilson & Co. meat distribution building at 283 North Willow Street (#229), which sports a carved bull's head projecting from the facade.
Residential Development
In the middle and late nineteenth century, residential development occurred in the area. Prior to such development, many canal boats wintered in the basin at the Blackfan and Wilkinson yard, and the captains and their families often lived aboard the ships through the winter. By the mid 1800's, east-west residential streets were created. Many land subdivisions also were registered in the 1850's by S.M. and Charles Higbee. The street which bore the name of these developers was later changed to Bellevue Avenue.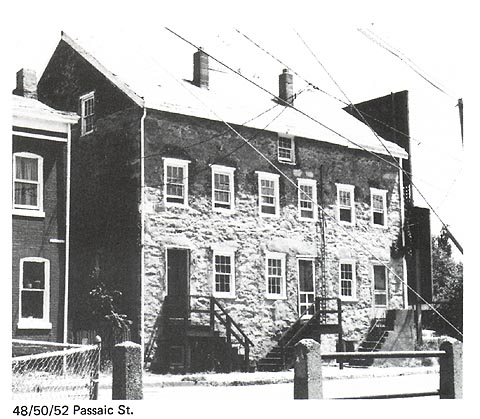 The Wilkinson family also made reinvestments in the area's residential development. They developed part of the modest eastern end of Spring Street in the 1860's, while the western end experienced more high style development. John Cleary's essay "Trenton Caught Building Lot Fever in Early '70's . . ." quotes from an 1871 State Gazette: "Although the growth of the city appears to be eastward and southeast, yet there are few handsomer locations than are to be found in all this section (Spring Street) of the city." 4 Many houses were reported "going up" on Spring Street, and the presence of a sidewalk on the northern side between Fowler and Calhoun Streets received special comment. Fundamentally simple buildings given a unique elegance by their groupings and fine detailing lined this area's streets, with more extravagant homes an exception.
Residential development was further stimulated by the appearance of trolley lines on West Hanover and North Willow Streets, and finally on Spring Street in 1885.
Spring and West Hanover Streets are still among two of the most distinctive residential streets in the North Ward. The eastern end of Spring Street is lined with simple vernacular, freestanding and attached frame houses (#195-#199). A slight cant in the street marks a change in character as large Second Empire and Neo‑Renaissance structures face each other (#200-#210). Further west, a collection of nine elegant Second Empire twins represents variations on a theme (#211); their bracketed entry ways topped by gracefully curving, projecting roofs, and the corresponding mansard roofs supported by paired brackets unify the composition. The usually simple Trenton Italianate/Gothic twins at 96-98 (#207) share a similar quality of the more elaborate Second Empire Twins by having wood ornamentation in the form of pedimented window and doorway hoods, an entryway with doubly recessed reveals and vine-like bargeboards. An imposing Queen Anne structure with a projecting turret elegantly punctuates the corner of Spring and Calhoun Streets (#212).
West Hanover Street features handsome but very plain Italianate/Gothic twins and has numerous clusters of rowhouses. Adjacent to the former site of the Grant stone yard, houses at 193-211, 204-208 (#177) and 304-316 (#186) appropriately feature a generous amount of brownstone which lends an air of solidity and permanence. The picturesque rowhouses built by Ogden Wilkinson on the north side at 138-160 West Hanover Street (#183) have been described as "patterned after Elizabethan townhouses of the nineteenth century;" 5 the Germanic influence in the roof ornament also reflects the early twentieth century trend of European styles popularization in the United States by returning American tourists. Whatever their precise stylistic origin, the composition, characterized by multi-colored patterned brick and flamboyant pressed-metal cornices makes for a unique grouping.
In contrast to the relative high style of Spring Street and the solidity and flamboyance of West Hanover Street, a few frame cottages exhibit simpler techniques. The structure at 82-84 Bellevue Avenue (#224), originally built as an ice skating clubhouse, 6 is a variation on the Victorian Cottage theme and is likely to have been pattern-book derived. Its gently gabled roofline features gracefully curvelinear trim. The otherwise austere building is enlivened by a wrap-around porch defined by unique three-stage square wooden posts. Jigsawn vine-like bargeboards edge the widely overhanging eaves on four sides. This is the oldest of four structures in the immediate vicinity bearing this vine-like detailing, found nowhere else in the North Ward. A worker's cottage at 120 Calhoun Street (#192) is representative of its type with jigsawn balustrade and bargeboards.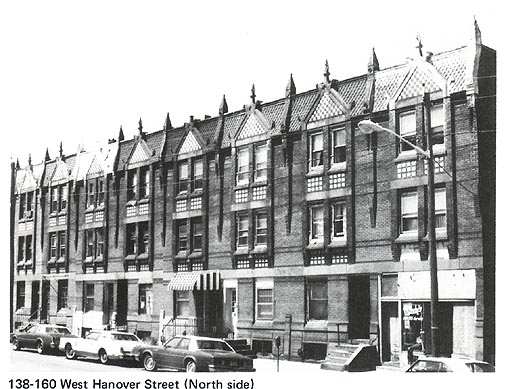 By the turn of the twentieth century, business had relocated and West Hanover Street reemerged as a residential street. Around the corner at the site of the former Blackfin and Wilkinson coal and lumber yard, Wilkinson later laid out Wilkinson Place (#188), constructing forty-one row houses with apartment buildings (#187) flanking the North Willow Street entrance. 7 Wilkinson retained total control of the enclave. Instead of selling the houses, he rented them; instead of dedicating the new street to the city, he maintained it as a private court. A city ordinance providing that any private street open to the public for twenty years become public property prompted Wilkinson to periodically close the street. Eventually, problems with municipal services dictated his deeding the street to the city.
Community Institutions
Although the Spring-Willow area was predominantly a white working class neighborhood until the twentieth century, the area's significance to Trenton Blacks dates back to a much earlier period. In 1857, the Higbee Street (Bellevue Avenue) school (later known as the Nixon School) was constructed; it served as Trenton's first school specifically intended for black children. This school building at 20 Bellevue Avenue (#223) is the North Ward's finest example of a simple Greek Revival temple form structure. In addition, Shiloh Baptist Church, presently in a contemporary building on Calhoun Street (#216), organized prior to 1888, was housed in a building on Belvidere Street as early as 1897.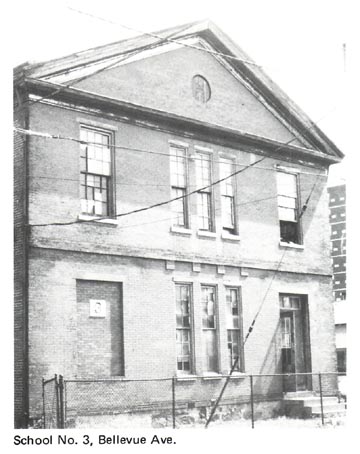 During the early twentieth century Black immigrants began to settle in Trenton, and Black professionals located homes and doctor offices on the western end of Spring Street. A 1929 article in the Sunday Times Advertiser noted that the area was inhabited by Trenton's middle and upper class Blacks. 8
During this period Blacks organized several additional institutions to serve their newly increased community. St. Monica's Mission for Colored People (Episcopal) was founded in 1919 and subsequently established on Spring Street. The congregation later merged with St. Michael's.
In 1927 the Sunlight Elks Lodge I.B.P.O.E. erected a large meeting hall at 40 Fowler Street (#217). Hosting such performers as Cabs Calloway and Fats Waller, it doubled as an entertainment center. A YMCA for Black youths was organized in 1927 and operated in various neighborhood buildings until it moved in 1944 into the former Elks Lodge, rechristening it the "Carver Center." 9 The Center is presently operated by the New Jersey State Federation of Colored Women's Clubs.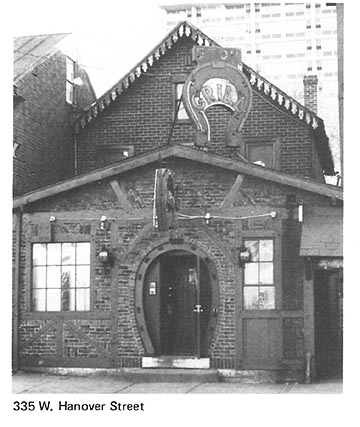 Notes
1 John J. Cleary, "Trenton in Bygone Days: West Hanover Street Has Seen Many Changes. . . ," Trenton Sunday Times-Advertiser, July 17, 1960, (Trenton in Bygone Days, vol. 12, p. 122).
2 John J. Cleary, "Passaic Street's Revolutionary Landmark . . . ;' Trenton Sunday Times-Advertiser, March 30, 1924, (Scrapbook of Trenton History, vol. 1, p. 47).
3 Cleary, "Trenton in Bygone Days: West Hanover Street . . . ."
4 John J. Cleary, "Trenton Caught Building Lot Fever in Early '70's; Buyers Rallied for $4,000 Prize;' Trenton Sunday Times-Advertiser, April 10, 1921, (Memorable Yesteryears for Trenton, vol. 2, p. 88).
5 "Unusual Buildings Mirror City's Past;' Trenton Sunday Times-Advertiser, November 8, 1964.
6 Harry J. Podmore, "Trenton in Bygone Days: Ice Skating Was Popular Winter Sport Here At Close of Civil War. . . ;" Trenton Sunday Times-Advertiser, January 2, 1955, (Trenton in Bygone Days, vol. 10, p. 95).
7 "Wilkinson Place Has Unique Distinction - It's the Only Private Street in City of Trenton;' Trenton Times, July 7, 1952.
8 John J. Cleary, "Trenton in Bygone Days;' Trenton Sunday Times-Advertiser, May 12, 1929, (Scrapbook of Trenton History, vol. 3, p. 109).
9 Vertical File: YMCA-Carver Branch, (Trentoniana Collection, Trenton Free Public Library, Trenton, New Jersey).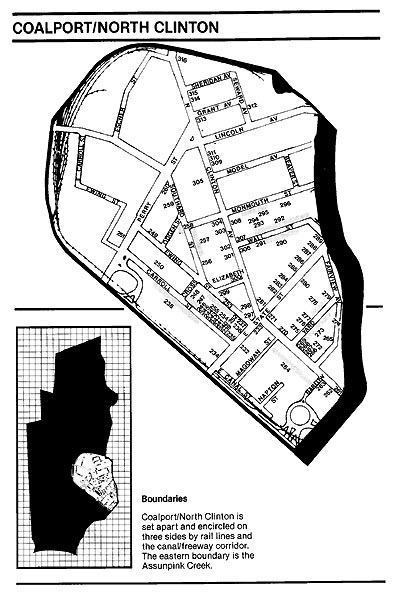 COALPORT/NORTH CLINTON
The Coalport/North Clinton Avenue neighborhood has been an area of contrast throughout its history. Industry grew amidst verdant farmland, while imposing mansions stood blocks away from brick rowhouses. The earliest eighteenth century development in the open lands to the northeast of Trenton was an iron works established by Samuel Henry along the Assunpink Creek near East State Street. The area developed further when Charles Higbee constructed a mansion surrounded by pastorale countryside, shortly after the Revolution.
Throughout the nineteenth century, land subdivisions were registered by land associations, such as the East Trenton Land Associations, and by private individuals including Ion Perdicaris. However, the canal and the railroads, rather than one person or group, helped most to stimulate development. During the early 1830's, the Delaware and Raritan Canal was constructed, separating this area of town from downtown Trenton. In 1839, the Camden and Amboy Railroad and Transportation Company laid tracks that followed the canal along the east side tow path with a station at the crossing of East State Street and the canal. 1 The railroad offered the first through rail service linking Trenton with New York and Philadelphia.
Across from the Camden and Amboy rail station on the south side of East State Street, on the site opposite the present Federal Building (#234), many impressive homes, referred to as "Cottages;" were built during the 1840's for Trenton's prominent families. These similar but distinctive squarish homes with Greek Revival detailing featured spacious lawns. Much later, in the early years of this century, the homes were celebrated as "once Trenton's swellest little colony of houses" 2 These buildings are no longer extant.
In 1849, land north of East State Street was subdivided by J.M. Raymond, W.P Sherman and Thomas Cadwalder. What could be Trenton's first sale of building lots soon followed. Lots were advertised as "Near the Canal and Railroad Depots." The neighborhood which took shape included Carroll, Ewing and Southard Streets, south of Perry Street.
Carroll Street is lined with fifteen vernacular Second Empire twins and structures of diverse Victorian derivation (#238-248). Six irregular row houses at 20-30 Carroll Street (#242, #243, #244) are articulated as twins, each twin featuring different window, porch and roof treatments. Large inset marble blocks unite the composition. In the same vicinity, Southard Street has Italianate twins (#257), an apartment building with Romanesque arches (#256), and a small Greek Revival cottage (#259).
In the 1850's, residential development grew "into the farm lands of Millham" when the Pennsylvania Railroad built a second "depot" near the Assunpink Creek at South Clinton Avenue (#265). Notable portions of the station, which was rebuilt numerous times, include the cast iron columns and latticework hoods of the train platforms, and the simple glazed white brick Art Deco towers. 3
The presence of the railroad station at the crossing of South Clinton Avenue and the Assunpink Creek also resulted in an area of specialized land use with a number of hotels in the immediate vicinity. Hotel Penn (#263), the largest remaining is dominated by an ornate broken pediment.
The dramatic role these railroad depots played in residential development cannot be overstated. The growing cluster of neighborhoods including properties on Carroll and Southard Streets in addition to the more recently developed Yard Avenue, South Clinton Avenue, and East State Street came to be referred to as the "Railroad Age" community. Houses in this elite area were developed in groups so they possess similar architectural qualities.
Yard Avenue has a split character with large Second Empire twins on the north side (#272, #275, #277, #278), and three-story townhouses on the south side (#272, #274). A number of individualistic dark stone and brick Queen Anne and Romanesque inspired dwellings line South Clinton Avenue (#266, #270). Stone of various hues and textures comprises the facade triptych at 42-46 (#268). This stonework is a counterpoint to Trenton's more typical virtuoso brickwork. These homes, as well as the stone structures at 48-52 (#266, #267) were erected by Thomas H. Prior, a stone contractor. Remaining residential structures on East State Street include massive Second Empire (#281, #282, #284, #286), Colonial Revival (#285, #287), and Romanesque (#288) derived houses. Comparison of Second Empire houses in the area such as 29-91 Carroll Streets (#238), 47-61 Southard Street (#258), 17-17 (#272), 18-29 (#275), 28-54 (#277-278) Yard Avenue, 55 North Clinton Avenue (#301), and 506-508 and 528 East State Street (#281, #282), reveals the flexibility of this stylistic theme, utilized extensively in this generally elite "Railroad Age" neighborhood.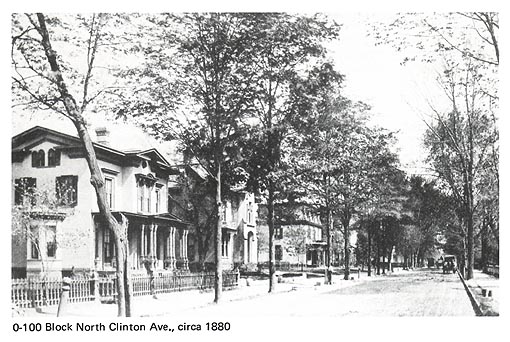 Another "first class residential district" developed along East State Street and North Clinton Avenue. 4 North Clinton Avenue boasted many mansions, including those of diplomat-entrepreneur Gregory Perdicaris, pottery executives James Moses, (#302) and Charles Breadley (#303), businessmen D.P Forst and Samuel B. Packer (#304), and Mayor Welling G. Sickle. Two-time Mayor and rubber baron Frank Magowan built "Magowan's Folly (#308), an extraordinary mansion on North Clinton Avenue, but years later, in financial ruin, he was forced to sell all of his properties and watch his mansion dismembered.
Charles Chauncey Haven, a visitor to Trenton in 1866, enthusiastically described the North Clinton Avenue/East State Street vicinity in a booklet entitled "Annals of the City of Trenton with Random Remarks and Historic Reminiscences:"
"East State Street, as it is now, extended into the country, in the vicinity of the new depot, with the horse rail cars passing through it to the hotels and the Delaware, running by the Cottages and the venerable row of trees planted early in the century by Charles Higbee, Esq., and the Fourth Presbyterian Church, a structure unsurpassed in this state as a model of architectural beauty, present(s) a combination of advantages which insure advanced improvements in that quart of the city.  Travelers entering town often stop at the corner of State and Clinton Streets, and are struck with admiration, bordering on surprise, to see such charming residences and picturesque scenery in Trenton; and if they extend their walk up Clinton Street and the elegant private mansions and shady walks . . . their astonishment is unbounded. They go away charmed with Trenton." 5
At this time a passerby might have caught a croquet tournament in progress on the grounds of the Parker House or visited the favorite spot for winter sleighing on North Clinton Avenue.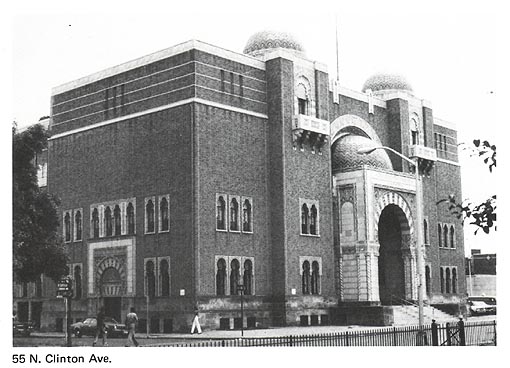 Although virtually all surviving mansions serve institutional purposes, North Clinton Avenue has retained much of its dignity. Architecturally, it remains the area's premier address. The former home of James Moses, now the Scottish Rite Temple, stands at 65 North Clinton Avenue (#302). The building is a fantasy of stone and slate with highly picturesque roofline. The home at 73 North Clinton Avenue, now housing the Mount Carmel Guild, is one of the city's finest Italianate Villas (#303). To the north, 79 (#304) is an earlier Italianate house with squarish massing, knee windows, and a highly detailed brownstone and iron fence. The primary nineteenth century owner was Samuel B. Packer, a stone and slate dealer, who left his name neatly carved on a large stone block, just inside the front gate. He developed "Packer Row" in North Trenton. Across the street is a deeply set back seven unit row. The central unit, with rounded front porch, is all that remains of "Magowan's Folly." With some imagination, one can picture the mansion as it was with winding stair, gold paneled ceilings, silk wall coverings, bronze chandeliers, a music room, library, and ballroom, lengthy verandas, gardens and orchards . . . , 6 before the financial and political ruin of its flamboyant occupant. Not far from the social and architectural grandeur of this area stood Coalport, a working class neighborhood north of Perry Street. For many years the "Swamp Angel" sat on a pedestal at the intersection of Perry Street and North Clinton Avenue dividing the two separate neighborhoods. This Civil War cannon, fired from the "marsh battery" at the City of Charleston during the Battle of Fort Sumter, marked the transition between Coalport and the more prosperous part of the neighborhood. 7 In 1961, the relic was moved to Cadwalader Park.
The Washington Building Association had subdivided Coalport into about 300 lots for residential development in 1851. 8 At the same time industry and coal yards marked the western portion of the Coalport area at the juncture of the main canal and the feeder. There were canal facilities, a railroad roundhouse, and a few potteries. The Thomas Maddock & Sons Pottery (#249, #250), the first major manufacturer of sanitary porcelain in the United States, stood at the fringe of Coalport and was the most important local industry. 9
The circa 1885 buildings are rhythmically articulated by windows with white Italianate window hoods; the Ewing Street building features large segmented pediments as parapets. This "industrial complex" represents one of a number of complexes altering the area's residential fabric. Some are well-designed assets, while others are nondescript intrusions.
Once narrow streets and dense residential development characterized most of the Coalport neighborhood populated largely by Irish. The residents fondly gave Coalport another name, Goosetown, because of the numerous geese inhabiting the marshes. Among organized community activities was the Thomas D. Burns Fife and Drum Corps which practiced in front of the Burns' Grocery. Residents also visited a makeshift circus ground in the Yard Avenue vicinity where both Dan Rice's and Barnum's circuses played. 10 The two classes met in rather bizarre fashion when Old World Color would assail "Goosetown" on an occasional Sunday in the warm Spring or Summer, when Mayor Welling G. Sickle in grey top hat and appropriate suit would drive his six horse tally-ho through Southard Street and up over the bridge on his way to Lawrenceville or Princeton. With a large party of friends aboard and two liveried buglers atop the rear to herald the tally-ho's approach, it was always something of an event. 11
Coalport, a solid community for some time, was, however, by the mid-twentieth century slated for urban renewal and industrial redevelopment. The execution of this plan by the Coalport Redevelopment Authority resulted in a radical change in the area's character. 12
With the demise of residential Coalport, working class housing is restricted to a small quadrant to the northeast, and Wall Street. Lined with brick attached houses on the north side, and twin detached frame houses on the south side, including two Worker's Cottages with setbacks, Wall Street is a particularly good collection of typical Trenton housing types (#290-#293).
The North Clinton/Coalport area also had several institutions which deserve mention. Organizations such as the Crescent (#306) and Scottish Rite (#302) Temples, The Knights of Columbus and the YMCA (#271) located in the area. The Mercer Cemetery (#264) was established in the mid-nineteenth century at Trenton's first non-sectarian graveyard.
Three Gothic brownstone churches punctuate North Clinton Avenue. Reflecting the social character of their immediate neighborhoods, the churches increase in size, complexity, and stylistic purity, from north to south between Sheridan Avenue and East State Street. Unfortunately both of the more prominent structures, the former Fourth Presbyterian and Jerusalem Baptist, have lost their lofty spires.
The Normal School, the forerunner of Trenton State College, and the Middle School, both teacher training schools, were built in the neighborhood as well.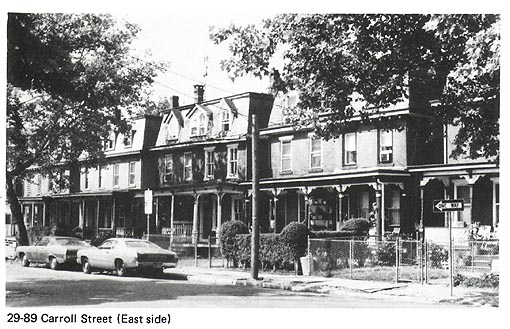 The Grant School (#305), constructed in 1938 on the site of the state schools, is an extremely fine example of Art Moderne design. Curvilinear surfaces and metal detailing articulate orange brick facades.
Notes
1 Walker et. al., A History of Trenton, pp. 282-283, 287-288.
2 "The Cottages Which Were Once Trenton's Swellest Little Colony of Houses," Trenton Free Public Library, Trentoniana Collection, Vertical File: Streets.
3 The platform and elevator towers are actually in the East Ward, connected by overhead concourse to the main station on the western side of the Assunpink Creek.
4 Turk, "Trenton, New Jersey in the Nineteenth Century," p. 228.
5 William Dwyer, "Trenton in Bygone Days: Clinton Avenue and State Street Drew Admiration of '66 Visitor," Trenton Sunday Times-Advertiser, March 1, 1964, (Trenton in Bygone Days, vol. 13, p. 151).
6 "Former Mayor's Famed Mansion Recalled," Trentonian, July 7, 1961.
7 Lee, History of Trenton, New Jersey.
8 "Trenton's First Sale of Building Lots," Trenton Sunday Times-Advertiser, September 28, 1913; Land Development Map.
9 Department of Planning and Development, An Inventory of Historic Engineering and Industrial Sites, p. 8.
10 A.J. Logue, "Trenton in Bygone Days: Goosetown Was Childhood Home of Many of Trenton's Best Known Citizens . . . ," Trenton Sunday Times-Advertiser, November 17, 1957, (Trenton in Bygone Days, vol. 11. p. 115).
11 Logue, "Trenton in Bygone Days: Goosetown . . .
12 See Judith F Kovisars, "Trenton Up Against It: The Prescription for Urban Renewal in the 1950's and 1960's" Joel Schwartz and Daniel Prosser eds., Cities of the Garden State: Essays in the Urban and Suburban History of New Jersey (Dubuque, Iowa: Dendall/Hunt Publishing Co., 1977), pp. 161-175.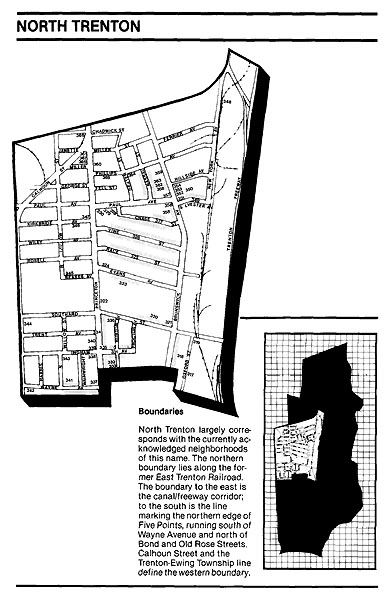 NORTH TRENTON
History and Development
Most of North Trenton has been part of the City of Trenton since incorporation in 1792. Narrow strips of land to the north and west, originally part of Ewing Township, were annexed in 1900. Early landowners included the Heath, Lambert, Cadwalader and Beakes families. 1
The Nathan Beakes estate was the earliest and best known settlement in the area, dating from Revolutionary days. Beakes Lane ran from Five Points to the Beakes house, which was located near the present intersection of Princeton and Beakes Avenues. After the formation of the Princeton and Kingston Branch Turnpike Company in 1807, the Princeton Pike followed the line of Beakes Lane. The Brunswick or Old Maidenhead Road traversed the area to the east. 2
Despite this early estate and the highways, North Trenton developed slowly. The area's low and swampy terrain partly explains this phenomenon. A development pattern persisted, as large tracts of North Trenton land were utilized for special purposes, part cause and part effect of slow settlement.
In 1802 a tract of higher land on Brunswick Avenue was purchased from Nathan Beakes to be used as a Potter's field for burial of the poor. The "Potter's Field" cemetery later became known as "Gallow's Hill" after a number of alleged hangings, including that of a confederate spy. It officially became the City Cemetery in 1861, retaining a ghostly reputation.
Relatively solid land was used as pastureland. A number of tracts served as military paradegrounds. Land opposite the Beake's homestead was utilized in 1847 as a camp and training ground for Mexican recruits. Because of its outlying location and available unsettled land, charities such as the Almshouse, established in 1869, were located in the neighborhood.
The Hotel de Kelly was "a disreputable structure (sic) dedicated to the housing of tramps." 3 Tickets were distributed to transients at City Hall, redeemable for bed and breakfast after the long trudge to Kelly's on Brunswick Avenue (at Race Street). It was not mere coincidence that Kelly's stood adjacent to the "Potter's Field." It is said that noise and fisticuffs were common in the area. With the Almshouse, Gallow's Hill and the Hotel de Kelly, "it was a somewhat eerie neighborhood." 4
Industry
After the construction of the Delaware and Raritan Canal, the area attracted industries that required much space. This type of activity included Weller's boatyard and basin established east of Brunswick Avenue.
The boatyard of Hiram Weller & Sons handled jobs ranging from contracts for repair of most barges and schooners on the Delaware and Raritan Canal, to construction of "palatial yachts" for local gentlemen sailors. They concurrently ran a sand and gravel business, and built dozens of flagpoles, especially during wartime. The Weller's basins were generally well-stocked with barges and yachts, a few fish, and skinny-dipping neighborhood boys. 5
H.C. Kafer & Co., Brick Manufacturers, was also situated at Princeton Avenue and Kirkbridge Street. They manufactured "all kinds of building and paving brick making a specialty of pressed and fancy brick, grinding and fitting arch brick." 6 Founded in 1847, this was the North Ward's largest and most prominent brickyard, providing brick for New York, Jersey City, and other growing municipalities, as well as the "home market:" The office of the H.C. Kafer & Co. brickyard still stands at 1001 Princeton Avenue (#347). A small cubic one-story Italianate structure with bracketed cornice on all sides, it has the appearance of a patternbook design.
The former Jonathan Bartley Crucible Co. complex (#317) on Oxford Street illustrates another example of North Trenton industry. One of the structures is surmounted by three decorative crucibles, a direct physical reminder of Trenton's pottery prominence. Despite the presence of industries, most nineteenth century Trentonians perceived North Trenton as the large picnic grove of the Evans farm, or simply as a sparsely settled outlying district along the Princeton and Brunswick Roads, a territory to be passed through while traveling to points north. The most commonly expressed concerns about the area included the lack of lamp posts and the poor road conditions. 7
Rose Cottage Nurseries supplied Trentonians with assorted flowers which complimented this country-like setting. Owned by noted floraculturalist George Wainwright, the nurseries occupied sizeable acreage west of Princeton Avenue and offered a rare variety of imported Japanese tree, the Japanese Salisburia Bibola, or the "Ginkgo." 8
Residential Development
Eventually North Trenton residential development in the 1880's proceeded in larger segments than elsewhere in the North Ward. Initially dwellings had been scattered about the area throughout the nineteenth century. More systematic development followed later, often taking the form of "rows" where an entrepreneur erected a series of dwellings of the same or interrelated design. Repetitive detached rows were built by Henry Phillips at 3-37 Chase Street, (#327) and Samuel B. Packer along Brunswick Avenue (#318) and Southard Street (#320).
"Packer Row" is a particularly notable late nineteenth century example. The "Packer Row" structures provide a striking pattern along the slight rise of Brunswick Avenue (#318). Each building, whether twin or freestanding, two stories or three, is articulated by a continuous stone band at sill-level, segmentally arched lintels with incised floral motif, and a bracketed cornice.
Along Brunswick Avenue, Southard and Oxford Street, fourteen three story twins, three simpler three story twins, five three story row houses, a store, and a tavern were all built by Samuel B. Packer. (#318, #319)
By the 1890's residential development from downtown along Princeton Avenue to the Almshouse in 1887 contributed to this development. Henry P. Phillips purchased the cemetery site and carted away the remains, to develop Chase Street. Subsequently, Joseph Paul opened Paul Avenue. After 1892, the trolley from downtown traversed this street, passing from Princeton Avenue to Brunswick Avenue, then continuing northward. 9
A variety of architectural styles characterize this residential area. Number 689 Princeton Avenue (#340) is possibly the oldest residential structure in North Trenton; its austere form and sparse ornamentation recalls Federal style architecture. Freestanding or twin residences exist in a cluster at Brunswick and Paul Avenues. This grouping includes freestanding and twin Italianate homes raised on a terrace (#358, #359); a hip-roofed cubic house with Italianate detailing but a Greek Revival demeanor; a large Queen Anne twin with wood shingles (#352), a Queen Anne house with sunburst motifs and a uniquely detailed projecting side bay (#353); and a three unit structure in bungalow style (#354). Around the corner on Sylvester Street, a three unit Victorian Gothic structure features original weatherboards and gingerbread detailing on one of its units (#350). This residential cluster encompasses great stylistic variation and character on an elevated site at the former bend of the Brunswick Avenue/Paul Avenue trolley line (#349).
Just south of this cluster, 561-573 Brunswick Avenue is a row of seven Queen Anne/Basic Block houses with unusual truncated dormers (#355). Other examples of North Trenton's distinctive series of attached houses are 666-684 Southard Street (#320) with a continuous metal cornice, and 1249-1259 Princeton Avenue (#367), a composition of six interdependent units united by paired gables and parapets.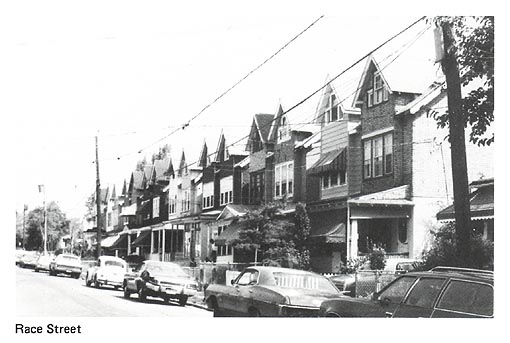 Just as in other areas and neighborhoods, construction of the trolley line and of new schools prompted a "strong tide of improvements" with "building in leaps and bounds" in the hands of land associations and individual developers. 10 Approximately 200 dwellings were constructed more or less simultaneously along Vine and Race Streets and Evans Avenue. These streets reflect the common North Ward tradition of connecting major north-south arteries (Princeton and Brunswick Avenues) with long, continuous east-west streets. Vine Street (#326) has unusual rowhouses with bungalow detailing; Race Street (#325) is lined with simple but dignified brick twins; Evans Avenue (#323) has Basic Block twins; Princeton Avenue (#332-340) between Southard Street and Wayne Avenue includes brick row houses in long series and alternating variations on the Basic Block style. Large scale development reappeared in the 1940's and 1950's public housing projects between Princeton Avenue and Calhoun Street.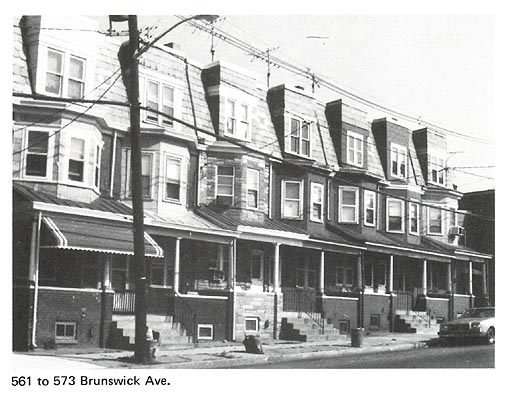 Institutions
Perhaps because of its relatively late residential development, North Trenton does not boast many long-standing community institutions. Dating from 1919, St. James Catholic Church (#330) is the most prominent ecclesiastical establishment. The Helene Fuld Hospital (#360) is a rambling complex, originally built around one of the area's stately mansions.
North Trenton's Junior High School No. 1 (#322) is a notable institution, with its elaborate Collegiate Gothic stone detailing and its imposing structure. Following a comprehensive school system reorganization in the early twentieth century, it was established as Trenton's first Junior High School. Junior High No. 1 and the Jefferson Elementary School (#321) were constructed on the Almshouse site, maintaining much open acreage.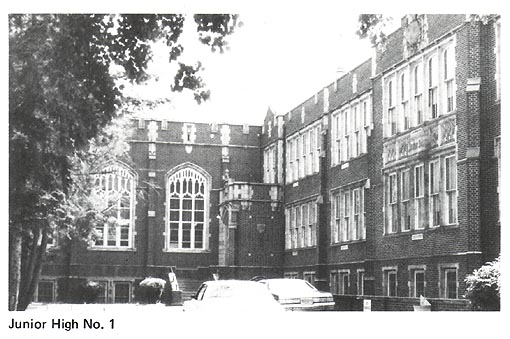 Today the North Trenton area retains its characteristic blend of diverse styles of residential, commercial, and industrial areas.
Notes
1 See Map of City of Trenton Showing Territorial Growth, 1792-1928, Walker, et. al., A History of Trenton, p. 352. (Figure 7 of this study.)
2 Walker, et. al., A History of Trenton, p. 241.
3 Meredith Havens, "Trenton in Bygone Days: North Trenton Area 80 Years Ago Was Bleak Section Noted For Hotel For Tramps, City Poor Farm and Potter's Field;" Trenton Sunday Times-Advertiser, September 30, 1962, (Trenton in Bygone Days, vol. 13, p. 60).
4 Havens, "Trenton in Bygone Days: North Trenton . . . :"
5 Harry J. Podmore, "Head of Town;" State Gazette, May 10, 1920.
6 "H.C. Kafer & Co. Brick Manufacturers," State Gazette, July 31, 1897, (Scrapbook of Trenton Industry).
7 Harry J. Podmore, "Trenton in Bygone Days;" Trenton Sunday Times-Advertiser, October 26, 1948.
8 Harry J. Podmore, "Head of Town;" State Gazette, February 13, 1922.
9 Trenton Free Public Library, Trentoniana Collection, Vertical File: Street Railways.
10 John J. Cleary, "Memorable Yesteryears for Trenton, No. 33," Trenton Sunday Times-Advertiser, 1917, (Memorable Yesteryears for Trenton, vol. 2).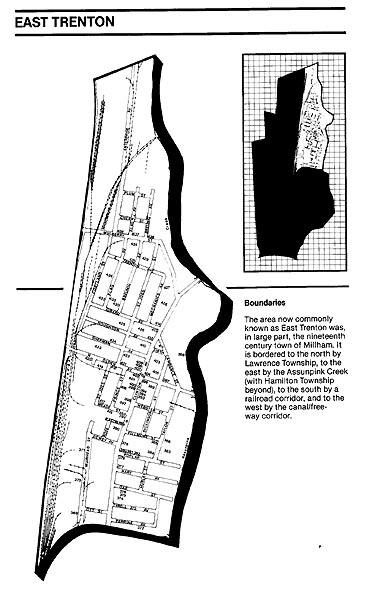 EAST TRENTON
History & Development
When the City of Trenton first incorporated in 1792, its boundaries included the neighborhood known as East Trenton. However, in 1844, Lawrence Township annexed this area. It remained part of Lawrence Township until 1882, when East Trenton became an independent jurisdiction known as Millham Township, which included much of Top Road. On May 1, 1888, Millham once again became part of the City. of Trenton. 1
In the mid-eighteenth century, Thomas Cadwalader owned much of Millham Township, but it was Samuel Henry who first improved the area, building a grist mill and planting a two hundred sixty tree apple orchard. Henry sold his own country estate during the late 18th century to General Philemon Dickinson. By 1797, when the estate's eastern portion was sold, the property included the grist mill, a saw mill, two houses, a drygoods shop, a blacksmith shop, a kiln, a barn, stables, and 1500 fruit trees. 2
Dickinson's son Samuel retained part of the property in East Trenton as a country estate, constructing a stone house in 1792 known as "The Grove," (#414) which still remains today, and is the oldest standing building in East Trenton. Located at North Clinton and Girard Avenues, The Dickinson House was described in 1809 as an "excellent stone dwelling house, 43 by 30 feet, in which there are two large parlors, the ceilings of which are 13 feet high . . ." 3 The house retains its original character today despite its change in use, first as a YMCA and later as a branch library. It no longer commands a sizable estate, but its large lot retains enough foliage to justify its historic name, "The Grove."
Upon his father's death in 1809, Samuel Dickinson moved his permanent residence to "The Grove." Samuel's son John attempted to initiate an industry by cultivating silkworms and planting many mulberry trees along the roads, especially along what is now Mulberry Street. His efforts to produce a cash crop met with little success. 4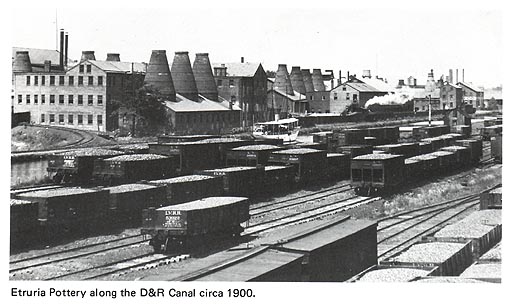 Industry
Despite John Dickinson's difficulty in establishing a successful commercial venture, industry did arrive on the scene. By the early 19th century, the industrial revolution began to have an impact on the area. Millham's industrial development depended upon and was molded by its transportation routes. Many mills were built along the Assunpink Creek. Industrial buildings were constructed along these routes by the 1840's and during the 1850's the area's pottery industry began to emerge.

The 1860's and 1870's witnessed the incorporation of many pottery and rubber companies. The potteries, manufacturers of products ranging from fine china to sanitary porcelain, tended to locate near the canal, while the rubber companies scattered along Millham Road and the Assunpink. The Delaware & Raritan Canal which opened in 1838 defined the area's western edge, creating a new industrial corridor. The canal, the neighboring Camden & Amboy Railroad line and Millham Road (North Clinton Avenue) to the east, all parallel to each other, established a developmental framework. By the 1880's a visitor to this section of Trenton reported for Harper's New Monthly Magazine:
"A two hours' ride from New York by rail takes one to Trenton, in point of production the principal seat of ceramic manufacture in the United States. As the train enters the suburbs one catches a glimpse of groups of substantial new buildings, whose ruddy, flame-colored cones proclaim the great industry is striking its roots outward from the center with its crowded factories and its network of railways and canals. Reaching the eastern portion of the city, one is surrounded by telling signs of the peculiar activity which has appropriately given this region its title of the Staffordshire of America. On every side may be seen smoking chimneys and kilns looming above tall modern factories or long, low, weather-stained buildings, lumbering carts filled with casks and crates of finished wares.." 5
East Trenton's physical character explains why this area is known as "The child of industry." Numerous two and three story brick industrial buildings dating largely from 1880-1920 border the area. These include the structures and complexes of the Lenox Co., (#417) the Star Porcelain Co., (#371) the Circle F Manufacturing Co., (#415, #416) and the John Taylor Co. (#372) (meat products). The oldest buildings of the Lenox complex (originally built for the Ceramic Art Co.), were designed to allow for conversion to housing should the pottery venture fail. The complex has been expanded to include an elegant structure with an exposed concrete frame. The Hamilton Rubber Co. buildings, (#415, #416) presently occupied by Circle F Manufacturing Co., are a rhythmic architectural composition of gabled 1870's structures united by a gracefully curvilinear wing with an Art Deco character. The John Taylor Co. buildings (#372) are surmounted by ornate brick and terra cotta cornices.
Land Sub-Division & Housing
The area's growing industry led to a breakup of large estates such as the Dickinson's, offering an opportunity for land subdivision and providing housing for factory employees. As early as 1850, land developers subdivided property into building lots, running three streets from the Millham Road to the Assunpink Creek (Hart Avenue and Poplar and Oak Streets). These lots became known as Homestead Place. In 1851, fifty five lots were laid out on a portion of the former Dickinson estate and were sold for twelve to twenty five dollars. 6 Real estate activity eventually culminated in the formation of land associations.
"The first well-directed effort to induce the purchase of lots in Millham, and the settlement thereon of such persons as it was deemed would exert an influence toward developing the various interests which have since made the locality conspicuous, was put forth by the East Trenton Land & Building Company, which was incorporated April 6, 1866 . . ." 7
The Enterprise Land Co. of New Jersey, organized in 1873, also developed land on both sides of the canal.
Such associations promoted development through the subdivision and sale of lots. Occasionally the associations constructed speculative housing. In a distinctive instance, "Three double frame dwelling houses were erected on Klagg Avenue as an inducement to the buyers of lots, for whoever drew a lucky number found a home already built on the lot." 8 Although residential and industrial construction continued, many years passed before the community's dense physical character emerged on a patchwork of separately developed non-coinciding grids. While the view along "residential" Eastburn Avenue (#390) epitomizes the overshadowing presence of industrial buildings and smokestacks, many residential streets are far removed from industrial properties.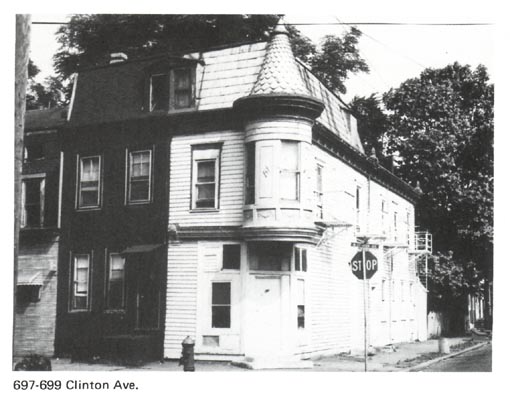 Community Life & Institutions
Practical reasons required many families to live near industrial sites. One area resident recalled her childhood in the neighborhood during the 1870's. Her father, a chemist, worked in one of the potteries, mixing chemicals for glazing. Since he had to be present when the glaze kilns were "run off" at night, the family lived near the factory "in the heart of the potter's community." Life among the pottery workers, was rough "Our surroundings were anything but pleasant . . . Gambling, fighting, drinking were done to excess . . ." 9
Corner taverns and saloons were often focal points of community life. Homestead House (#378), at the corner of North Clinton Avenue and Poplar Street, opened in 1860 as Millham's first "public house." Nearby at North Clinton Avenue and Meade Street stood "The Princess;" one of Trenton's few neighborhood theaters (#392). Featuring decorative tilework and monumental metal cornice, the building has served as both The Princess Theater and The Holy Cross Church. The neighboring wood and metal "Holy Cross Diner" (#391) luncheonette is a very early type of roadside diner.
Despite the increased number of area factories, the neighborhood retained recreational space. The grounds of the larger brewery, known as Locust Hill and later Hetzel's Grove, were just across the Assunpink Creek above Olden Avenue (#388). These grounds were the scene of picnics and shooting matches as well as grand balls. A swampy meadow between Courtland Avenue and the railroad saw much activity. In the summer residents raised geese and ducks and pastured horses, mules, cows, goats and swine. In the fall they gathered hazel nuts and chestnuts, and in the winter, the swamp was partially ice-covered creating a grand skating park. 10
Millham's settlers followed the national pattern of immigration and settlement in the northeast. The first groups included the English, Irish, Germans, and Scotch. Later, during the 1880's and 1890's when American industry expanded, many Italians and Polish people joined the community. In more recent years, Black and Puerto Rican workers found employment in area factories. 11 Throughout these years, the community's fortunes have depended upon area industry.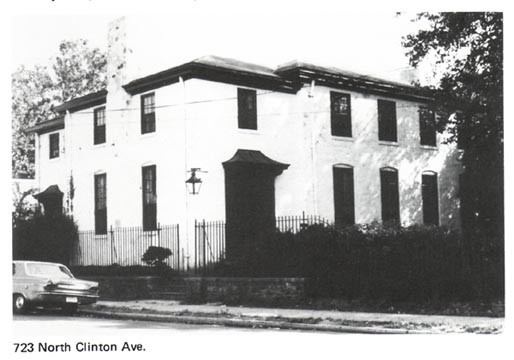 Community institutions also contributed to the neighborhood's development. A Black cemetery was established at an early date along the Assunpink Creek between Hart and Oak Avenues. The first church in East Trenton, Methodist (#377), was organized in 1852 at Hart and Clinton Avenues. The first school opened in 1866 on Dickinson Street. Other churches and schools followed. Today, St. Joseph's Catholic Church (#421, #422), the East Trenton Presbyterian Church (#407), and the Methodist, now the First Born Church of the Living God (#377) are the most physically prominent existing neighborhood churches.
Commerce
By the 1880's, Millham was a thriving community with growing industry, expanding population, increasing housing, and the beginning of a commercial district along North Clinton Avenue. The opening of a street railway in 1876, which connected the area to downtown Trenton, especially assisted the neighborhood's growth. The developing commercial area, along a one-and-a-half mile stretch of North Clinton Avenue, eventually accommodated over one hundred businesses including grocers, restaurants, shoe repair shops, furniture companies, and two "department stores." 12
A number of distinctive building types and patterns emerged along commercial North Clinton Avenue. The intersections of North Clinton Avenue with Girard and North Olden Avenues, boast picturesque Queen Anne structures with corner entrances and turrets. Number 699 North Clinton Avenue (#413) is frame, while the later 577 (#402) is brick with terra cotta panels. More common commercial structures are blockish Italianate buildings. Often featuring drip molds, these buildings rise above their neighbors anchoring corners.
Other parts of North Clinton Avenue are enlivened by an extraordinary variety of rounded, rectangular and three-sided projecting upper story oriels. Today, many of the once busy commercial buildings are used for storage, but meat and vegetable markets, a used furniture store, and additional small businesses still remain.
Notes
1 See Map of City of Trenton Showing Territorial Growth, 1792-1928, Walker, et. al., A History of Trenton, p. 352.
2 William J. Harney, "Old Millham Notebook," Trenton Sunday Times-Advertiser, August 4, 1929, (Trenton's First Potteries and Old Millham Notebook, p. 72).
3 Harney, "Old Millham Notebook," Trenton Sunday Times-Advertiser, August 4, 1929.
4 Walker, et. al., A History of Trenton, p. 314.
5 Hazel Herman, "Millham: Trenton's Modern Industrial Cradle;" Trenton, June, 1970, p. 21.
6 William J. Harney, "Old Millham Notebook;' Trenton Sunday Times-Advertiser, August 11, 1929, (Trenton's First Potteries and Old Millham Notebook, p. 9).
7 Major E.M. Woodward and John F. Hageman, History of Burlington and Mercer Counties (Philadelphia: Eyerts and Peck, 1883), p. 359.
8 Harney, "Old Millham Notebook," Trenton Sunday Times-Advertiser, August 25, 1929.
9 Lillian C. McKee, "How We Spent Our First Ten Years in Trenton;" (Trentoniana Division, Trenton Free Public Library, Trenton, N.J.)
10 William J. Harney, "Old Millham Notebook;' Trenton Sunday Times-Advertiser, August 18 & 25, 1929, (Trenton's First Potteries and Old Millham Notebook, pp. 11, 13).
11 Trenton Council of Social Agencies, "A Study of Northeast Trenton," April, 1958.
12 "Decline and Fall: Along Once Thriving North Clinton Avenue Vacant Buildings Paint a Somber Picture;" Trenton Times, May 12, 1971.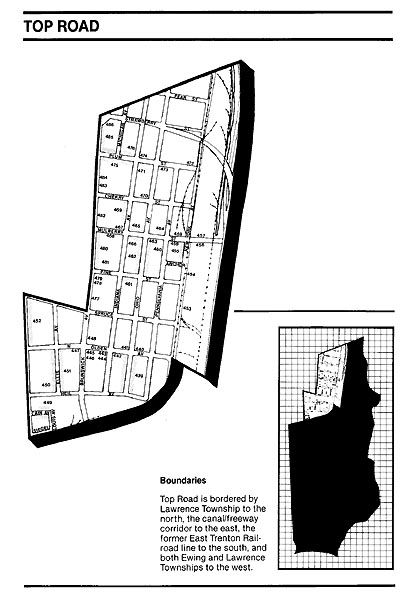 TOP ROAD
History & Background
The Top Road area has undergone many boundary changes since its incorporation into the City of Trenton. Trenton's southeastern corner was severed in 1858, becoming a part of Ewing Township. In 1900, however, it was reannexed, and additional lands to the west accompanied the change. Initially the larger and northern portion of Top Road belonged to Hopewell and Maidenhead Townships, until Millham Township adopted this land in 1882. The City of Trenton annexed Millham in 1888. 1 However, to appreciate Top Road's evolution this chapter must begin its study with the late 17th and 18th centuries.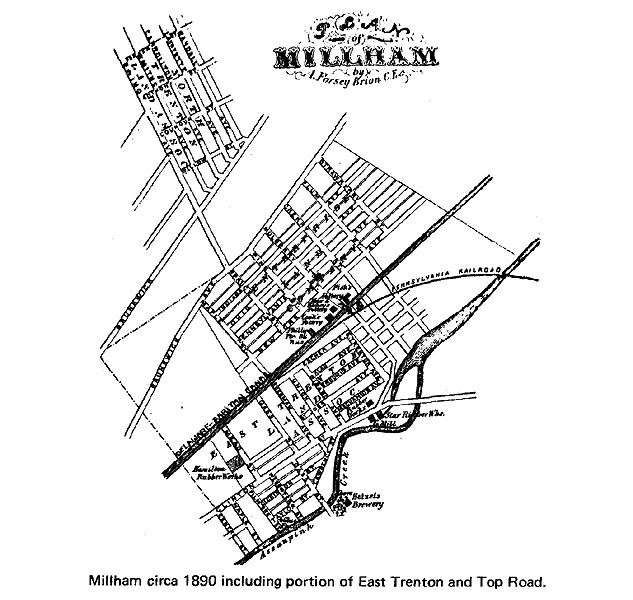 Transportation- Infrastructure
While Trenton grew during the eighteenth century, what was later to be known as Top Road lay in the country as part of the path northwards to Princeton and New Brunswick. In fact, as early as the late seventeenth century, a path had been cut from "Indian's Ferry" on the Raritan (New Brunswick) to the "Falls of the Delaware:' By the mid-eighteenth century, this path became the route of countless stages providing service from Trenton to New Brunswick and beyond to New York. In 1758, "Mill Lane" was laid out to facilitate transportation of grain between farm country and the mills of Samuel Henry on the Assunpink Creek. The lane's intersection with the road to New Brunswick was marked by a tavern known as the White House or Bellerjeau's Tavern. It stood alone, far out in the country at that time, in service to weary travelers and thirsty farmers. 2
A second structure mentioned in early historical accounts was a distillery known as the "Still House" which lent its name to the area where Mill Road later crossed the Delaware and Raritan Canal. Neither of these early structures remains. However, the oldest extant structure in the area, a small plain twin dwelling dating from the mid-nineteenth century, survives as a tavern near the "Still House" crossing. The Mill Lane was relaid in 1774 as a "four-rod" road, and became known as Mulberry Lane (Street), owing to John Dickinson's experiment in East Trenton with the silk industry and mulberry trees.
In 1804 the Trenton and New Brunswick Turnpike Company was chartered to improve the Trenton-New Brunswick Road. Some years later, it was rebuilt above Mulberry Street, to be used possibly as a railroad right-of-way, and the road became renowned as one of the straightest roads in the country. In 1807 the Princeton and Kingston Branch Turnpike Company was chartered to develop a road to Princeton, to the west of and parallel to the New Brunswick Pike. 3
The Brunswick and Princeton Pikes and Mulberry Street provided the basic framework for the future development of Top Road which commenced in the 1860's. In addition, the Delaware and Raritan Canal, constructed by this time along what is now the neighborhood's eastern edge, provided a corridor for industrial development.
Residential Development
The subsequent dispersal of activity and use from the downtown and the successive increases of population prompted the City's Enterprise Land Co. to purchase and later build a substantial amount of housing for new residents. Development proceeded slowly until the City grew outward toward the north. Except for Top Road's southwest portion, the area's residential development occurred largely in terns of individual lots, with many intervening lots remaining vacant.
The first houses, built before 1880 and standing in the 900 block of New York Avenue (#455) opposite the potteries, are simple and austere two story Greek Revival /Italianate hybrids. A few frame worker's cottages remain with generous setbacks. A variety of later vernacular housing styles, including the Italianate/Gothic and the Basic Block, are represented. Numbers 821-825 Mulberry Street (#468) is a fascinating variation on the common Italianate/Gothic theme: a four unit structure with pedimented window hoods and bargeboards with circular drops and cutouts. Streets such as the 600 and 900 blocks of Ohio Avenue (#439, #462), and the 700 block of Mulberry Street (#465) are lively and colorful architectural compositions. Although most styles utilized are much the same as elsewhere in Trenton, in Top Road they appear in a less dense context in small clusters of freestanding form.
The housing stock also includes a number of more suburban structures. Number 804 Plum Street (#474) is a handsome cottage combining Shingle Style and bungalow elements.
Repetitive development and greater density characterize the southwest section of Top Road. However, even the repetitive development on the small lots of Heil Avenue, 0-100 block (#450), consists of narrow freestanding bungalows. Later, during the early twentieth century, the North Trenton Land Company and the Brunswick Heights Land Association purchased and resold major portions of property to the west. 4 At the same time, a number of potteries were erected on the western bank of the canal. Most of the potteries are composed of long, low, brick structures with gable roofs and/or raised skylights.
Community Life-Institutions & Industry
Top Road developed a strong community focus akin to that of a small town. Although the area's early roads provided the framework for the growth of Top Road, the intersection of North Olden Avenue with Brunswick Avenue provided a setting for neighborhood businesses and organizations. Many early Top Road households were Polish, and this ethnic presence continues today, manifested in both shops and institutions.
In 1904 Polish Catholics organized a parish and named it St. Hedwig's, honoring the thirteenth century patron saint of Selicia, part of the territory of Poland. A massive twin towered church was constructed in 1924 at the corner of Brunswick and North Olden Avenues (#445). The complex of church, school, convent and auditorium (#443, #444, #445) dominates the area. Polish Lutherans established a church, Holy Trinity, in 1911.
In 1906, Kosciuszko Hall (#441) was constructed at North Olden and Ohio Avenues. This large hall, honoring the Polish hero of the American Revolution, serves as a Polish/American community center, and as Hall No. 59 of the Polish fraternal organization. 5
The Eagle Bakery is situated across Ohio Avenue from Kosciuszko Hall (#440). A carved stone "Polish Eagle" is set between the facade attic windows, "S. Markiewicz" is set in tile on the floor of the entrance stoop.
The industrial complexes which foreshadowed Top Road's growth are concentrated along its eastern edge. The buildings of the community core present a varied stylistic profile, a mixture of the Neo-Classical, Italianate and twentieth century brick commercial beneath the Baroque towers of St. Hedwig's.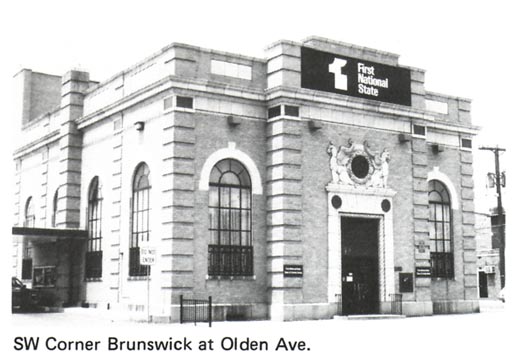 Two structures in the neighborhood feature fanciful distinctive detailing. The First National State Bank (#447) at Brunswick and North Olden Avenues displays two large and fearsome stone griffins carved in relief. Number 958 Pennsylvania Avenue (#460) is a whimsical essay in a highly personal Victorian Neo-Classical style. Introducing the orange and turquoise house, a gateway consists of pedestals adorned with plaster plants.
Despite the industrial corridor to the east, and a more concentrated residential pattern toward the southwest, Top Road is characterized neither by overshadowing industry nor dense residential development. It has retained its green, spacious, small town character; the homes' porches and gardens, features found more frequently here than elsewhere in the North Ward, certainly contribute to this suburban quality.
Notes
1 See Map of City of Trenton Showing Territorial Growth, 1792-1928, from Walker et. al., A History of Trenton, p. 352. (Figure 7 of this study)
2 Harry J. Podmore, "Head of Town," State Gazette, January 5, 1920.
3 Walker et. al., A History of Trenton, p. 241.
4 Land Development Map.
5 Trenton Free Public Library, Trentoniana Collection, Vertical File: Foreign Populations.
ARCHITECTURAL STYLES
A building's style is the key to its character, and therefore essential to its preservation. Every building possesses a special style which results from the collection and arrangement of its architectural elements. These range from the structure's proportion and massing to its detailing and ornamentation. The specific features vary in scale, material, texture and form, but combine together in a unified architectural composition that creates a building's unique style. Although products of their time, stylistic themes do not emerge instantly on a particular date, nor do they suddenly disappear. Instead, they evolve gradually, reach a climax, and fade away.
As they evolve, elements associated with different styles are sometime combined to form buildings that are hybrids. Upon occasion, a building of one style is updated with elements characteristic of a later period. Regional adaptations and local influences also account for variations of a particular style.
The various styles prevalent throughout the North Ward include Greek Revival, Italianate, French Second Empire, Victorian Cottage, and the Basic Block. Other, less prolific styles are listed in the glossary.
Greek Revival
The Greek Revival style is part of an architectural movement whose buildings' features are rich with associative values, recalling a distant time or place. Although the Greek Revival derived from the architecture of Classical Greece, its style does not represent an actual and accurate revival but rather a romantic interpretation. In the late eighteenth and early nineteenth centuries, this civilization and its architecture received the focus of public attention. Archeological expeditions produced lavishly illustrated books and sparked excitement with the culture and artifacts of ancient Greece. The Greek War for Independence from the Turks (1821-24) also evoked international sympathy. People increasingly viewed Classical Greek architecture as an expression of the democratic ideals associated with its ancient civilization. Americans deemed the mode especially appropriate for the architecture of our own young democratic nation, itself only recently freed from foreign domination.
The Greek Revival style, evident throughout Trenton, prevailed from 1825 to about 1850. Once found in long uniform rows, today, Greek Revival homes survive only in pairs or triplets. The dignity of these buildings derives from the simple and straightforward character. A lack of ornamentation and a regular boxlike silhouette typifies the homes built in this mode. In Trenton, Greek Revival homes generally possess two and one half story wood clapboard or brick facades which feature three bays or openings. To one side of the front facade, at the head of a simple stoop with wood or wrought and cast iron railings, is the entry way. The doorway usually stands unadorned although sometimes bears classical details or orders. A two or four panel door is topped by a rectangular transom or overlight. A more elegant doorway variation may feature simple sidelights. Window treatment of six over six paned, double hung sash with unadorned stone or wood sills and lintels, contributes to the character of these unelaborate homes. Shutters grace the major windows. Although today people consider shutters ornamental, operable shutters formerly performed important functions. On the ground they were paneled to provide security while at the second level they were louvered to allow ventilation while still offering protection. The shallow top floor or attic, defined by the fascia board, is lighted by knee windows. The openings are perhaps the most distinguishing feature of the Greek Revival facade. Above these openings may be elaborate cornices featuring a row of blocks called lentils. A shallow cable or flat, shed roof caps the entire structure.
Italianate
The Italianate style is opulent, inspired by the architecture of Renaissance Italy. It originally appeared in English and French public buildings during the 1830's. Within a decade it started to appear in the United States. John Notman, an architect responsible for many buildings throughout the northeastern states, has often received credit for its American introduction. His design for the Athenium in Philadelphia exemplifies the Italianate style used in urban structures; his design for Ellarslie in Trenton represents a rural version.
By 1850, the Italianate had supplanted the Greek Revival in Trenton. Its general forms, massing and characteristics features create a dramatically different style from its predecessor. Italianate buildings are not severe, but quite lavish. Technological advances helped to create the elaborate embellishments that characterize this ornamental style.
Typically, the smooth stucco facades of these two and one half or three story houses are approximately equal in height and width. Segmental and semicircular arched openings, adorned by elaborate hood molds, and richly incised lintels, have replaced the plain, rectangular openings of the Greek Revival. The doorway, the design focus, is recessed and often features double hung doors decorated with rich moldings and circular or oval motifs. Tall windows (sometimes full length) no longer feature many panes of glass, but instead contain large two over two double hung sash. The style's exuberance sometimes thrusts forward to the street with large bay windows. A broad cornice crowns the entire composition. This cap features small attic windows nestled under the overhanging eaves supported by large brackets. Either paired or evenly spaced, these protruding brackets add substantial depth and interest to the facade.
French Second Empire
The French Second Empire or Mansard style borrowed the architecture of mid nineteenth century Paris. Emperor Louis Napoleon's reign (1852-70) witnessed the transformation of France's capital from a medieval maze of narrow streets to a city of grand boulevards and lavish monumental buildings, setting the standard for Europe and America. By the late 1860's, Americans had widely adopted the French Second Empire style. It gained popularity in Trenton, lending itself particularly to elegant rows and stately semi-detached homes.
The mansard roof is the hall mark of the French Second Empire Style. Named after French Imperial Architect Francois Mansard, its characteristic roof is the style's dominant element. Resting on a small bracketed cornice, the steeply pitched, nearly vertical roofs may be either straight or bowed. Dormer windows provide light and air to the attic rooms created by the mansard. Delineating the composition, the roof is often topped with decorative cast iron called roof cresting. Roof tiles are frequently slate, sometimes featuring multi colored and semi circular or hexagonal tiles.
Three-sided projecting window bays, balanced on either end of a semi-detached house, add depth to the facade while maintaining a dignified symmetry. The fenestration throughout usually consists of simple rectangular frames with two over two sash. In many cases, however, the windows feature rounded top rails and hood molds reminiscent of the Italianate and Neo-Grec Styles. Similarly, the front entries of these French Second Empire homes feature elaborately panelled, recessed, and arched double doors. Many of these French Second Empire houses were originally flat-roofed Italianate houses. The addition of a mansard roof to these nineteenth century homes provided an additional story, while making the home "fashionable."
Victorian Cottage
The Victorian Cottage is a vernacular house type which does not have a specific high-style counterpart. It is ultimately derived from the gabled, brick attached worker's houses of eighteenth and nineteenth century English mining and industrial towns. In America, the narrow two room per floor plan was adopted for urban rowhouses, and the gabled cottage form was popularized for free-standing rural "gothic" cottages by A.J. Downing and others after 1840. Under the additional influence of temple-form Greek Revival cottages, builders later in the century reunited this plan and gabled form as the frame Victorian cottage.
These modest cottages were well-suited for modest lots, and were often among the first houses constructed in the outlying areas around expanding cities because they could be easily and quickly constructed by a builder or landowner. Many of Trenton's neighborhoods feature small numbers of Victorian cottages erected between 1870 and 1900. Although often hemmed in on their small lots by adjacent rowhouses, the cottages also invariably reflect a measure of their rural cottage roots with a setback behind a small yard fronted by iron fencing.
The Victorian cottage is a narrow two or three bay house with balanced fenestrations, of two stories, with its vertical lines accentuated by a street facing gable roof. Most cottages have porches, sometimes with turned columns and wood "carpenter gothic" detailing. All were originally clad in weatherboards, with corner and bargeboards.
Basic Block
The term "Basic Block" has been coined to correspond with a common Trenton vernacular house type of the early twentieth century which has no commonly accepted stylistic name. The Basic Block structure, almost always a twin, draws from Queen Anne, Colonial and Georgian Revival, and Bungalow sources, but retains no dominant, specific stylistic character. Rather, its identity lies in its shape and consistent adjunct features.
The Basic Block twin has a primary, somewhat bulky, squarish form. It is capped by a hip roof or a broad gable parallel to the street. Porches, projecting three-sided or rectangular second-floor bays for each unit, and either individual or shared dormers are the essential supplementary characteristics. It can be either brick or frame. Stylistic detailing appears irregularly. Queen Anne influence is sometimes apparent in the treatment of projecting bays and in the use of a variety of sheathing materials, the colonial and Georgian Revivals may be reflected in occasional planar brick facades, neoclassical porch columns, and hip roofs; Bungalow characteristics appear as shingling, exposed rafters, and porch detail.
Basic Block twins are constructed throughout Trenton's older outlying residential neighborhoods between about 1900 and 1930.
SURVEY LISTING
Historic Districts & Waterfront
1. Delaware & Raritan Canal
2. Calhoun Street Bridge
Downtown
3. Peace Street Bridge
4. South Broad Street Bridge
5. 120 South Stockton Street
6. Bridges @ U.S. Route 1 & East State and Perry Streets
7. 330-334 East State Street
8. 319 East State Street
9. 228-244 East State Street (north side)
10. 227 East State Street
11. 225 East State Street
12. 223 East State Street
13. 201 East State Street
14. 216 East State Street
15. 143 East State Street
16. 137 East State Street
17. 135 East State Street
18.127-129 East State Street
19. 125 East State Street
20. 117-121 East State Street
21. 109-113 East State Street
22. 150 East State Street
23. 120 East State Street
24. 35 East State Street
25. 9 East State Street
26. 98 East State Street
27. Dunhams Watertower @ 11 North Broad Street
28. 12-14 East State Street
29. 2-6 East State Street
30. 7 West State Street
31. South Warren Street (west side just below West State Street)
32. 7-41 West State Street (south side)
33. 9 West State Street
34. 27 West State Street
35. 28 West State Street
36. 31 West Front Street
37. 31-33 West Front Street
38. 31 West Front Street (rear lot)
39. 6-21 Peace Street (both sides)
40. 16-46 West Lafayette Street
41. 15 South Broad Street
42. 2 North Broad Street
43. 12 North Broad Street
44. 22 North Broad Street
45. 102 North Broad Street
46. 101-109 North Broad Street
47. 137 North Broad Street
48. 143-151 North Broad Street
49. 153 North Broad Street
50. 25 East Hanover Street
51. South Warren and Lafayette Streets Lamp Post/Street Sign (throughout City)
52. 110-130 S. Warren Street (east side)
53. 120 South Warren Street
54. 101-123 South Warren Street (west side)
55. 101 South Warren Street
56. 8-32 South Warren Street (east side)
57. 2-24 North Warren Street (east side)
58. 14 North Warren Street
59. 18-24 North Warren Street
60. 35 North Warren Street
61. 102-116 North Warren Street
62. 120-122 North Warren Street
63. 124 North Warren Street
64. 130 North Warren Street
65. 140 North Warren Street
66. 123-127 North Warren Street
67. 131-137 North Warren Street
68. 139 North Warren Street
69. 151 North Warren Street
70. 153 North Warren Street (facing Chancery Lane)
71. 8 West Hanover Street
72. 35 West Hanover Street
73. 41 West Hanover Street
74. 49 West Hanover Street
75. 60 West Hanover Street
76. 128-130 North Willow
Five Points
77. 28-32 Bank Street
78. 10-14 Bank Street
79. 211 North Warren Street
80. 221 North Warren Street
81. 227-231 North Warren Street
82. 233-235 North Warren Street
83. 237-245 North Warren Street
84. 220 North Warren Street
85. 222-228 North Warren Street
86. 230-232 North Warren Street
87. 234-236 North Warren Street
88. 238-240 North Warren Street
89. 242-246 North Warren Street
90. 250-256 North Warren Street
91. 335-349 North Warren Street - 3 Pennington Avenue
92. 339 North Warren Street
93. 8-12 Perry Street
94. 16 Perry Street
95. 215-237 North Broad Street
96. 245 North Broad Street
97. 230-246 North Broad Street
98. 200 Block North Broad Street
99. E.L. Kerns Company
100. Sign at 302-304 North Broad Street
101. 320-350 North Broad Street
102. 334 North Broad Street
103. 338-350 North Broad Street
104. 320 Montgomery Street
105. 336-338 North Montgomery Street
106. East side Montgomery Street, North of South Feeder Street
107. 400 Montgomery Street
108. North Warren & North Broad Streets
109. 107 Brunswick Avenue
110. 116-124 Brunswick Avenue
111. 126-128 Brunswick Avenue
112. 130-146 Brunswick Avenue
113. 148 Brunswick Avenue
114. 129 Brunswick Avenue
115. 145 Brunswick Avenue
116. 156 Brunswick Avenue
117. 178-194 Brunswick Avenue (east side)
118. 178 Brunswick Avenue
119. 182 Brunswick Avenue
120. 194 Brunswick Avenue
121. 177-179 Brunswick Avenue
122. 110-160 Old Rose Street
123. 338-344 Brunswick Avenue
124. 327 Brunswick Avenue
125. 0-100 Cavell Avenue (both sides)
126. 0-100 Sanford Street (both sides)
127. 0-100 block Bond Street (both sides)
128. 402-424 Princeton Avenue
129. 402 Princeton Avenue
130. 401 Princeton Avenue
131. 440 Princeton Avenue
132. 450-500 Princeton Avenue
133. 425-439 Princeton Avenue
134. 443-475 Princeton Avenue
135. 497 Princeton Avenue
136. 505 Princeton Avenue
137. 12-16 Fountain Avenue
138. 512 Princeton Avenue
139. 518-520 Princeton Avenue
140. 606-610 Princeton Avenue
141. 612-626 Princeton Avenue
142. 39-44 Tucker Street
143. 260 North Willow Street
144. 306 North Willow Street
145. 7-11 Pennington Avenue
146. 13 Pennington Avenue
147. 61 Pennington Avenue
148. 26-30 Pennington Avenue
149. 40 Pennington Avenue
150. 72-90 Pennington Avenue (north side)
151. 94 Pennington Avenue
152. 114 Pennington Avenue
153. 136 Pennington Avenue
154. 144-146 Pennington Avenue
155. 148-150 Pennington Avenue
156. 152-154 Pennington Avenue
157. 407 North Willow Street
158. 160 Pennington Avenue
159. 610 Calhoun Street
160. Humboldt & Fountain Avenues (near Calhoun Street) Trolley Right-of-Way
161. 18-20 Chapel Street
162. 23 Chapel Street
163. 0-100 block Barbara Street (west side)
164. 41 Barbara Street
165. 100 Humbolt Street
166. 0-200 block Sweets Avenue
167. 23 Sweets Avenue
168. 33-35 Sweets Avenue
169. 51 Sweets Avenue
170. 0-200 block Fountain Avenue
171. 13-15 Fountain Avenue
172. 0-200 block New Rose Street
173. 105 New Rose Street
Spring & Willow
174. 135 West Hanover Street
175. 139 West Hanover Street
176. 163-191 West Hanover Street (north side)
177. 193-211, 204-208 West Hanover Street
178. 217-227 West Hanover Street
179. 233 West Hanover Street
180. 315 West Hanover Street
181. 321-323 West Hanover Street
182. 335 West Hanover Street
183. 138-160 West Hanover Street (north side)
184. 164 West Hanover Street
185. 172-202 West Hanover Street (north side)
186. 304-316 West Hanover Street
187. 109-119 North Willow Street (west side)
188. 17-51 Wilkinson Place
189. 145 North Willow Street
190. 30 Passaic Street
191. 48-50-52 Passaic Street
192. 120 Calhoun Street
193. 128 Calhoun Street
194. Traffic Island @ North Willow & Spring Street Light
195. 33 Spring Street
196. 53 Spring Street
197. 61-71 Spring Street
198. 34-80 Spring Street
199. 56 Spring Street
200. 81-83 Spring Street
201. 87-141 Spring Street
202. 101 Spring Street
203. 117 Spring Street
204. 123-125 Spring Street
205. 127 Spring Street
206. 78-80 Spring Street
207. 96-98 Spring Street
208. 92-94 & 104-106 Spring Street
209. 100-102 Spring Street
210. 108-110 Spring Street
211. 112-130 Spring Street
212. 140 Spring Street
213. 199 North Willow Street
214. 75-79 Summer Street
215. 4-22 Belvidere Street
216. 340 Calhoun Street
217. 36-44 Fowler Street
218. 29-49 Bellevue Avenue
219. 65-67 1/2 Bellevue Avenue
220. 81 Bellevue Avenue
221. 89-111 Bellevue Avenue
222. Calhoun Street & Bellevue Avenue Sign Post
223. 20 Bellevue Avenue
224. 82-84 Bellevue Avenue
225. 86-106 Bellevue Avenue
226. 217-219 North Willow Street
227. North 25 Housing
228. 460 Calhoun Street
229. 283 North Willow Street
230. 79-109 Pashley Avenue
231. 99 Pennington Avenue
Coalport

/North Clinton

232. 425 East State Street

233. 441-443 East State Street

234. 420 East State Street

235. 428 East State Street

236. 436 East State Street

237. 438-442 East State Street

238. 29-91 Carroll Street

239. 8-10 Carroll Street

240. 12-14 Carroll Street

241. 16-18 Carroll Street

242. 20-22 Carroll Street

243. 24-26 Carroll Street

244. 28-30 Carroll Street

245. 34-36 Carroll Street

246. 38-40 Carroll Street

247. 42-48 Carroll Street

248. 50-52, 54-56 Carroll Street

249. 106 Ewing Street

250. 100 Carroll Street

251. 522 Perry Street

252. 9 Ewing Street

253. 15-43 Ewing Street

254. 221 Ewing Street

255. 23 Ewing Street

256. 10-14 Southard Street

257. 20-46 Southard Street (both sides)

258. 47-59 Southard Street

259. 79-81 Southard Street

260. 577-579 Perry Street

261. Clinton Avenue Bridges

262. 87 South Clinton Avenue

263. 81 South Clinton Avenue

264. 51 South Clinton Avenue

265. Camden and Amboy Railroad - Trenton Amtrak Station

266. 50-52 South Clinton Avenue

267. 48 South Clinton Avenue

268. 42-44-46 South Clinton Avenue

269. 38-40 South Clinton Avenue

270. 30-32 South Clinton Avenue

271. 501 East State Street

272. 15-17 Yard Avenue

273. 19-45 Yard Avenue - South Side

274. 49-51 Yard Avenue

275. 18-20 Yard Avenue

276. 22 Yard Avenue

277. 28-30 Yard Avenue

278. 40-54 Yard Avenue - north side

279. 56 Yard Avenue

280. 545-547 East State Street

281. 506-508 East State Street

282. 520 East State Street

283. 528 East State Street

284. 532-534 East State Street

285. 540-542 East State Street

286. 556 East State Street

287. 558-560 East State Street

288. 568, 570, 572 East State Street

289. 576 East State Street

290. Wall Street - south side

291. 43 Wall Street

292. Wall Street - north side

293. 48-48 1/2 Wall Street

294. 15-23 Monmouth Place

295. 125-139 Monmouth Street

296. 155, 157, 163-165 Monmouth Street

297. 19 North Clinton Avenue - 500 East State Street

298. 21 North Clinton Avenue

299. 36 Ewing Street

        27 North Clinton Avenue - rear

300. 39 North Clinton Avenue

301. North Clinton Avenue

302. 65 North Clinton Avenue

303. 73 North Clinton Avenue

304. 79 North Clinton Avenue

305. 159 North Clinton Avenue

306. 56 North Clinton Avenue

307. 62, 64, 66, 68 North Clinton Avenue

308. 70-84 North Clinton Avenue

309. 136-138 North Clinton Avenue

310. 140-142 North Clinton Avenue

311. 150 North Clinton Avenue

312. 6, 8, 10 Seward Avenue

313. 216 North Clinton Avenue

314. 232 North Clinton Avenue

315. 238 North Clinton Avenue

316. 270-272 North Clinton Avenue

North Trenton

317. 29-33 Oxford Street

318 348-404 Brunswick Avenue (east side)

319. 491 Southard Street

320. 666-684 Southard Street

321. 401 Brunswick Avenue

322. 800 Princeton Avenue

323. Evans Avenue (both sides)

324. 12 Evans Avenue

325. Race Street (both sides)

326. Vine Street (both sides)

327. 0-100 Chase Street

328. 27 East Paul Avenue

329. 29 East Paul Avenue

330. 31 East Paul Avenue

331. 0-200 Block East Ingham Avenue

332. 628-674 Princeton Avenue (both sides)

333. 640 Princeton Avenue

334. 680-722 Princeton Avenue (east side)

335. 680-682 Princeton Avenue

336. 720-722 Princeton Avenue

337. 629 Princeton Avenue

338. 667 Princeton Avenue

339. 683 Princeton Avenue

340. 689 Princeton Avenue

341. 0-200 block Wayne Avenue

342. 161-171 Wayne Avenue

343. 603 N. Willow Street (on side facing W. Ingham St.)

344. 1002 Calhoun Street

345. 20-26 Beakes Street

346. 31-37 Kirkbridge Avenue

347. 1001 Princeton Avenue

348. 526 New York Avenue

349. 0-100 block Sylvester Street (both sides)

350. 26-30 Sylvester Street

351. 602 Brunswick Avenue

352. 604-606 Brunswick Avenue

353. 610 Brunswick Avenue

354. 616-620 Brunswick Avenue

355. 561-573 Brunswick Avenue

356. 577 Brunswick Avenue

357. 601 Brunswick Avenue

358. 609, 611-613 Brunswick Avenue

359. 629 Brunswick Avenue

360. 750 Brunswick Avenue

361. 763-765 Brunswick Avenue

362. 86 East Paul Avenue

363. 0-100 block Nassau Street

364. 157-161 Phillips Avenue

365. 209 Phillips Avenue

366. 1247 Princeton Avenue

367. 1249-1259 Princeton Avenue

368. 1283 Princeton Avenue
East Trenton
369. 15 & 21 Muirhead Avenue
370. 49-65 Muirhead Avenue
371. Muirhead Avenue
372. 63 Perrine Avenue
373. Tyrell Avenue (both sides)
374. 330-356 North Clinton Avenue (east side)
375. 350 North Clinton Avenue
376. 356 North Clinton Avenue
377. 372 North Clinton Avenue
378. 406-408 North Clinton Avenue
379. 444-446 North Clinton Avenue
380. 47 Poplar Street
381. 36 Poplar Street
382. 40-42 Poplar Street
383. 22-48 Taylor Street (east side)
384. 23 Taylor Street
385. 81 Fillmore Street
386. 104 Taylor Street
387. 334 Olden Avenue
388. Assunpink Creek north of North Olden Avenue
389. 401-416 North Olden Avenue (both sides)
390. Eastburn Avenue (both sides)
391. 483 North Clinton Avenue
392. 499 North Clinton Avenue
393. 526 North Clinton Avenue
394. 542 North Clinton Avenue
395. 532-538 North Clinton Avenue
396. 562-566 North Clinton Avenue
397. 501-509 North Clinton Avenue
398. 519 North Clinton Avenue
399. 599 North Clinton Avenue
400. 5671 North Clinton Avenue
401. 563-573 North Clinton Avenue (west side)
402. 577 North Clinton Avenue
403. 620-646 North Clinton Avenue
404. 606-608 North Clinton Avenue
405. 614 North Clinton Avenue
406. Northwest and Northeast corners of North Clinton and North Olden Avenues
407. 609 North Clinton Avenue
408. 613 North Clinton Avenue
409. 615 North Clinton Avenue
410. 637-663 North Clinton Avenue (west side)
411. 662-676 North Clinton Avenue (east side)
412. 675 North Clinton Avenue
413. 697-699 North Clinton Avenue
414. 701 North Clinton Avenue
415. 39 Meade Street
416. 66 Prince Street
417. 50 Meade Street
418. 599 Olden Avenue
419. 600 block North Olden Avenue (south side)
420. 635 North Olden Avenue
421. 528-534 North Olden Avenue
422. 35-37 Sherman Avenue
423. 100 block Sherman Avenue (south side)
424. 198 Sherman Avenue
425. 100 block Houghton Avenue (both sides)
426. 35, 49, 51 Girard Avenue
427. 21-35 Mulberry Street, 757-773 North Clinton Avenue
428. 0-100 block Mechanics Avenue
429. 517-524 St. Joseph's Avenue
430. 25-27 Bruenig Avenue
431. 200 East Trenton Avenue
432. 13-15 Klagg Avenue
433. 24-28 Klagg Avenue
434. 41-63 Klagg Avenue
435. 220-230 Klagg Avenue
436. 330 Mulberry Street
437. 230 Mulberry Street
438. 106-108 Mulberry Street
Top Road
439. 600 block Ohio Avenue
440. 926 Olden Avenue
441. 1002 Olden Avenue
442. 1025-1027 North Olden Avenue
443. North Olden and Indiana Avenues, S.W. Corner
444. 641 Indiana Avenue
445. Brunswick and North Olden Avenues, S.E. Corner
448. 872 Brunswick Avenue
447. 891 Brunswick Avenue
448. 900-904 Brunswick Avenue
449. 0-100 block Cain Avenue (both sides)
450. 0-100 block Heil Avenue (south side)
451. 200 block Ellis Avenue (both sides)
452. 1500 block Princeton Avenue, East Side
453. 650 New York Avenue
454. 900 New York Avenue
455. 900 block New York Avenue (west side)
456. 457 Mulberry Street
457. 450 Mulberry Street
458. 521-523 Mulberry Street
459. 508 Mulberry Street
460. 958 Pennsylvania Avenue
461. 700 block Pine Street (south side)
482. 900 block Ohio Avenue (both sides)
463. 619 Mulberry Street 1910
464. 602-616 Mulberry Street
465. 700 block Mulberry Street (both sides)
466. 709 Mulberry Street
467. 802 Mulberry Street
468. 821-825 Mulberry Street
469. 1000 block Indiana Avenue (west side)
470. 706 Cherry Street
471. 1150 Indiana Avenue
472. 32 Plum Street
473. 619 Plum Street
474. 726 Plum Street
475. 800 block Plum Street (both sides)
476. 804 Plum Street
477. 1012 Brunswick Avenue
478. 1038-1040 Brunswick Avenue
479. 1042 Brunswick Avenue
480. 1100 block Brunswick Avenue (east side)
481. 1110 Brunswick Avenue
482. 1200 Brunswick Avenue
483. 1300 Brunswick Avenue
484. 1314 Brunswick Avenue Brunswick Theater
485. 1400 block Brunswick Avenue (east side)
486. 1432 Brunswick Avenue
METHODOLOGY
The North Ward Survey was restricted to one of the city's wards with the expectation that surveys of the other three wards would follow. The ward was considered as a whole, but was also gradually broken down into neighborhoods. This approach provided an organizational framework for survey data. In addition, it enabled an analysis of the physical environment and developmental and social historic context of the ward's local communities. At the same time, it revealed the role of each section in the overall development and organization of the city.
The division of sections was based on both physical and historical evidence gathered from simultaneous fieldwork and documentary research. Physical considerations included broad issues of land use (residential, commercial, industrial) and architecture (age, type, style) plus street patterns, focal points, open space and topographical features, development and population density. Local historic themes included major urban trends such as industrialization and suburbanization, long-standing ethnic or class identities, and dominant institutions or types of activity.
Survey fieldwork was conducted using "Individual Structure" and "Streetscape" inventory forms provided by the New Jersey Office of Historic Preservation. Individual Structure forms were used to record specific buildings and sites, industrial complexes, bridges and street furniture. Streetscape forms recorded one or both sides of entire blocks, groups of repetitive or closely related structures, and building ensembles unified by elements such as terracing and fencing.
Individual structures and streetscapes were selected to be recorded on the basis of a mixture of objective and subjective evaluation criteria. Historical significance, design quality and integrity, and uniqueness or typicality were considered. For streetscapes, additional factors included overall variety or consistency, and rhythmic or coloration patterns. Some properties were chosen as a result of documentary research, most were selected during fieldwork and then verified by documentary investigation. A number of properties of major significance were researched in depth (for nomination to the National Register of Historic Places and inclusion as Trenton City Landmarks.)
BIBLIOGRAPHY
Maps:
Insurance Diagram of Trenton, N.J. New York: D. A. Sanborn, 1874. (Updated to 1893.)
Land Development Map. Engineer's Office, City Hall, Trenton, N.J.
Lathrop, J. M. Atlas of the City of Trenton & Borough of Princeton. Philadelphia: A. H. Mueller & Co., 1905.
Real Estate Atlas of Trenton & Princeton, N.J. Philadelphia: Franklin Survey Co., 1930.
Robinson, E. and Pidgeon, R. H. Atlas of the City of Trenton & Suburbs, N.J. New York: E. Robinson, 1881.
Sidney, J. C. Map of the City of Trenton, N.J. Philadelphia: M. Dripps, 1849.
Subdivision Maps. Office of the County Clerk, Mercer County Courthouse, Trenton, N.J.
Books:
Lee, Francis B. History of Trenton, New Jersey. Trenton: F. T. Smiley & Co., 1895.
Lee, Francis B. Trenton Illustrated. H. R. Page & Co., 1891.
Podmore, Harry J. Trenton Old and New. Trenton: Trenton Tercentenary Commission, 1964.
Raum, John O. History of the City of Trenton, New Jersey. Trenton: W. T. Nicholson & Co., Printers, 1871.
Toothman, Stephanie S. Trenton, N.J. 1719-1779: A Story of Community Growth and Organization. Philadelphia: University of Pennsylvania, c. 1977.
Turk, Jessie Rose. "Trenton, New Jersey in the Nineteenth Century: The Significance of Location in the Historical Geography of a City." Ph.D. Dissertation, Columbia University, 1964.
Walker, Edwin R. et. al. A History of Trenton, 1679-1929. Trenton Historical Society. Princeton University Press, 1929.
Woodward, Major E. M. and Hageman, John F. History of Burlington and Mercer Counties. Philadelphia: Everts and Peck, 1883.
Miscellaneous Sources:
City Directory of Trenton, N.J. Various publishers, 1854-present.
Department of Planning and Development, City of Trenton. An Inventory of Historic Engineering and Industrial Sites: Trenton, N.J. Trenton: City of Trenton, 1975.
Herman, Hazel. "Millham: Trenton's Modern Industrial Cradle." Trenton, June, 1970, pp. 20-23.
Kovisars, Judith F. "Trenton Up Against It: The Prescription for Urban Renewal in the 1950s and 1960s" Joel Schwartz and Daniel Prosser eds. Cities of the Garden State: Essays in the Urban and Suburban History of New Jersey. Dubuque, Iowa: Kendall/Hunt Publishing Co., 1977, pp. 161-175.
M[a]cKee, Lillian C. "How We Spent Our First Ten Years in Trenton,' Trentoniana Division, Trenton Free Public Library, Trenton, N.J.
Messler, M. J. "History of Trenton." Trentoniana Division, Trenton Free Public Library, Trenton, N. J.
National Register of Historic Places Inventory -Nomination Forms. Academy-Hanover, Mill Hill, State House and Yard Ave. Historical Districts, Trenton, N.J.; Delaware and Raritan Canal.
Photograph Files. Trentoniana Division, Trenton Free Public Library, Trenton, N.J.
Podmore, Harry J. "The Historic Five Points in Trenton." The Silent Worker, vol. 33, no. 2, Nov., 1924, pp. 50-55.
Trenton, Oct., 1929. (Trenton 250th Anniversary Edition.).
Trenton Landmarks Commission Files. Dept. of Housing & Development, Trenton, N.J.
Vertical Files. (-Business, -Business-Dept. Stores, -Buildings, -Churches, -East Trenton, -Fraternal organizations, -Historic Houses, -Industries, -Railroads, -Streets, -Street Railways, etc.) Trentoniana Division, Trenton Free Public Library, Trenton, N.J.
Newspaper Articles:
"Besides Historic Shrines, Trenton Has Many Old Houses:" Trenton Sunday Times-Advertiser, Sept. 27, 1925.
"Closing of College Recalls Changes in Clinton Avenue:" Trenton Sunday Times-Advertiser, July 1, 1934.
"Decline and Fall: Along Once Thriving North Clinton Avenue Vacant Buildings Paint a Somber Picture:" Trenton Times, May 12, 1971.
"Former Mayor's Famed Mansion Recalled." Trentonian, July 7, 1961.
"Trenton's First Sale of Building Lots." Trenton Sunday Times-Advertiser, Sept. 28, 1913.
"Wilkinson Place Has Unique Distinction - It's the Only Private Street in City of Trenton:" Trenton Times, July 7, 1952.
Newspaper Serials/Scrapbooks: Trentonian Division, Trenton Free Public Library:
Cleary, John J. "Memorable Yesteryears for Trenton: Trenton Caught Building Lot Fever in Early '70's. . . :' Trenton Sunday Times-Advertiser, April 10, 1921. Memorable Yesteryears For Trenton, vol. 2, p. 88.
Cleary, John J. "Passiac Street's Revolutionary Landmark . . . ." Trenton Sunday Times-Advertiser, Mar. 30, 1924. Scrapbook of Trenton History, vol. 1, p. 47.
Cleary, John J. "Trenton in Bygone Days." Trenton Sunday Times-Advertiser, May 12, 1929 Scrapbook of Trenton History, vol. 3, p. 109.
Cleary, John J. "Trenton In Bygone Days." Trenton Sunday Times-Advertiser, July 13, 1930 Scrapbook of Trenton History, vol. 4, p. 13.
Cleary, John J. "Trenton In Bygone Days." Trenton Sunday Times-Advertiser, July 10, 1932 Scrapbook of Trenton History, vol. 5, p. 17.
Cleary, John J. "Trenton In Bygone Days." Trenton Sunday Times-Advertiser, Nov. 11, 1934 Scrapbook of Trenton History, vol. 6, p. 57.
Cleary, John J. "Trenton In Bygone Days." Trenton Sunday Times-Advertiser, Nov. 24, 1935 Scrapbook of Trenton History, vol. 6, p. 161.
Cleary, John J. "Trenton In Bygone Days: West Hanover Street Has Seen Many Changes. . . :' Trenton Sunday Times-Advertiser, July 17, 1960. Trenton In Bygone Days, vol. 12, p. 122.
Cleary, John J. "Trenton in the 80's and 90's: No. 28: A Retrospect of Old Brunswick Ave" Trenton Sunday Times-Advertiser, July 25, 1926. Scrapbook of Trenton History, vol. 2, p. 40.
Dwyer, William. "Trenton In Bygone Days: Clinton Avenue and State Street Drew Admiration of 1866 Visitor." Trenton Sunday Times-Advertiser, Mar. 1, 1964. Trenton in Bygone Days, vol. 13, p. 151.
Harney, William J. "Old Millham Notebook:" Trenton Sunday Times-Advertiser, Aug. 4, 11, 18, 25, 1929. Trenton's First Potteries and Old Millham Notebook, pp. 7a, 9, 11, 13.
Havens, Meredith. "Trenton In Bygone Days: North Trenton Area 80 Years Ago." Trenton Sunday Times-Advertiser, Sept. 30, 1962. Trenton in Bygone Days, vol. 13, p. 60.
Houses of Worship In and Near Trenton, N.J.:
Logue, A. J. "Trenton In Bygone Days: Goosetown Was Childhood Home of Many of Trenton's Best Known Citizens . . . ." Trenton Sunday Times-Advertiser, Nov. 17, 1957. Trenton in Bygone Days, vol. 11, p. 115.
"Memorable Yesteryears For Trenton: No. 33: Recalling the Notorious "Hotel de Kelly" and "Gallows Hill Cemetery." Trenton Sunday Times-Advertiser, 1917. Memorable Yesteryears For Trenton, vol. 2, p. 37.
Podmore, Harry J. "Head of Town:" State Gazette, Jan. 1, 1920; Jan. 12, 1920; Jan. 26, 1920; Mar. 29, 1920; May 10, 1920; Aug. 2, 1920; Jan. 23, 1922; Jan. 30, 1922; Feb. 13, 1922; Feb. 27, 1922. (Vertical File - Podmore - Head of Town, Trentoniana Division, Trenton Free Public Library.)
Podmore, Harry J. "Trenton In Bygone Days." Trenton Sunday Times-Advertiser, Jan. 8, 1947. Trenton in Bygone Days, vol. 7, p. 3.
Podmore, Harry J. "Trenton In Bygone Days: Brownstone Used in New York and Philadelphia Was Quarried in Trenton." Trenton Sunday Times-Advertiser, June 21, 1959. Trenton in Bygone Days, vol. 12, p. 51.
Podmore, Harry J. "Trenton In Bygone Days: 25th Anniversary Event of Polish Falcons is Recalled:" Trenton Sunday Times-Advertiser, Jan. 5, 1955. Trenton in Bygone Days, vol. 10, p. 128.
Scrapbook of Trenton Biography. 37 vols.
Scrapbook of Trenton Industry. 4 vols.
"Trenton In Bygone Days:" Trenton Sunday Times-Advertiser, Sept. 22, 1940. Trenton in Bygone Days, vol. 3, p. 127.
"Trenton In Bygone Days:" Trenton Sunday Times-Advertiser, Feb. 7, 1943. Trenton in Bygone Days, vol. 4, p. 163.
"Trenton In Bygone Days: Various Sections of Trenton Have Been Known by Many Names ...." Trenton Sunday Times-Advertiser, Mar. 9, 1958. Trenton in Bygone Days, vol. 11, p. 144.
STREET INDEX
Street Inventory
Address Number
Bank Street

10-14

28-32

Barbara Street

0-100

41

Beakes Street

20-26

Bellevue Avenue

20

29-49

65-67 1/2

81

82-84

86-106

89-111

@ Calhoun Street

Belvidere Street

4-22

Bond Street

0-100

Breunig Street

25-27

North Broad Street

2

11

12

15

22

101-109

102

137

143-151

153

200

200

230-246

243

302

302-304

320-250

334

338-350

South Broad Street

Bridge

Brunswick Avenue

107

116-124

126-128

129

130-146

145

148

156

177-179

178-194

178

182

194

318-344

327

348-404

401

561‑573

577

601

602

604-606

609-611-613

610

616-620

629

750

763-765

872

872

891

900-904

1012

1038-1040

1038-1040

1042

1100

1110

1200

1300




1314




1400
1432

Cain Avenue

0-100

Calhoun Street

120

128

340

460

610

Between Humboldt & Fountain Avenues near Calhoun Street

1002

Calhoun Street Bridge-Trenton City Bridge

Carroll Street

8-10

12-14

16-18

20-22

24-26

28-30

29-31

34-36

38-40

42-48

50-52

54-56

100

Cavell Avenue

Chapel Street

18-20

23

Chase Street

0-100

Cherry Street

706

North Clinton Avenue

19

21

39

55

56

62-64

66-68

65

70-84

73

79

136-138

140-142

150

159

216

232

238

270-272

330-356

350

356

372

406-408

444-446

483

499

501-509

519

526

532-538

542

559

561

562-566

563-573

577

NW & NE Corners

N. Clinton & Olden Avenues

606-608

609

620-646

613

614

615

637-663

662-676

675

697-699

701

South Clinton Avenue

30-32

38-40

42-44-46

48

50-52

51

81

87

Bridge

Eastburn Avenue

Ellis Avenue

200

Evans Avenue

12

Ewing Street

9

15-23

21

23

36

106

Fairview Avenue

31

Filmore Street

81

Fountain Avenue

0-200

12-16

13-15

Fowler Street

36-44

West Front Street

31

31-33

31

Girard Avenue

35, 39, 51

East Hanover Street

25

West Hanover Street

8

35

41

49

60

135

138-160

139

163-191

164

172-202

193-211

204-208

217-227

233

304-316

315

321-323

335

Heil Avenue

0-100 block

Houghton Avenue

100 block

Humboldt Street

Indiana Avenue

641

1000 block

1150

Corner Olden Avenue

East Ingham Avenue

0-200 block

Kirkbridge Avenue

31-37

Klagg Avenue

13-15

24-26-28

41-63

220-230

West Lafayette Street

100 block

Street Sign & Lamp (@ South Warren St.)

Meade Street

39

Meade & Prince Streets (66 Prince Street)

50

Mechanics Avenue

0-100 block

Monmouth Place

15-23

125-139

155, 157

163, 165

Montgomery Street

320

336-336 (east side north of South Feeder Street)

400

Muirhead Avenue

15 & 21

49-65

Mulberry Street

21-35

757-773

106-108

230

330

508

521-523

450

457

602-616

619

700 block

709

802

821-825

Nassau Street

0-100 block

New Rose Street

0-200 block

105

New York Avenue

526

650

900

900 block

Ohio Avenue

600 block

900 block

926

Old Rose Street

100 block

Olden Avenue

334

Assunpink

Creek north of Olden Avenue

401-416

528-534

599

600 block

635

1002

1025-1027

Oxford Street

29-33

Pashley Avenue

79-109

Passaic Street

30

48-50-52

East Paul Avenue

27

31

86

Perry Street

8-12

16

522

577-579

Bridge @ U.S. Rt. 1

Peace Street

Peace Street Bridge

Pennington Avenue

7, 9, 11

13

26, 28, 30

40

61

72-90

94

99

114

136

144-146

148-150

152-154

160

Pennsylvania Avenue

958

Perrine Avenue

63

Phillips Avenue

157, 159, 161

209

Pine Street

700 Block

Plum Street

32

619

726

804

Poplar Street

47

36

40-42

Princeton Avenue

401

402-424

402

425-439

440

443-475

450-500

497

505

512

518-520

600-700

606-608-610

612-626

628-674

629

640

667

680-682

683

689

720-722

800

1001

1247

1249-1259

1283

1500 block

Race Street

St. Joe's Avenue

517-524

Sanford Street

0-100

Seward Avenue

6, 8, 10

Sherman Avenue

35-37

100 block

198

Southard Street

10-14

20-46

47-59

79-81

491

666-684

Spring Street

33

34-80

53

56

61-71

78-80

81-83

87-141

92-94 & 104-106

96-98

100-102

101

108-110

112-130

117

123-125

127

140

East State Street

2-6

9

12-14

35

98

109-113

117-121

120

125

127-129

137

137

143

150

200 block

201

216

223

225

227

301

330-334

420

425

428

436

438-442

441, 443

501

506, 508

520

528

532,534

540,542

545, 547

556

558-560

568, 570, 572

576

Bridge @ U.S. Rt. 1

West State Street

0-100 block

9

9

27

28

South Stockton Street

120

Summer Street

75, 77, 79

Sweets Avenue

0-200 block

23

33-35

51

Sylvester Street

0-100

26-30

Taylor Street

22-48

23

104

East Trenton Avenue

200

Tucker Street

39-44

Tyrell Avenue

Vine Street

Wall Street

41

43

48-48 1/2

North Warren Street

0-100 block

14

20-24

35

102-116

120-122

123-127

124

130

131-137

139

140

151

153

211

220

221

222-228

227-231

230-232

233-235

234-236

237-245

238-240

242-246

250-256

335

339

North Warren Street & North Broad Street

South Warren Street

0-100 block

0-100 block

100 block

100 block

101

120

Street sign & lamp post (@ West Lafayette Street

Wayne Avenue

0-200 block

161-171

Wilkinson Place

17-51

North Willow Street

109-119

128-130

145

199

traffic island    triangle

200 block

217-219

260

283

306

407

@ 603 North Willow Street

Yard Avenue

15-71

18-20

22

28-30

40-54

49-51

56
CITY OF TRENTON
Mayor
Arthur J. Holland
City Council
Carmen J. Armenti, President
Anthony J. Anastasio
John R. Cipriano
Howard H. Fitzgerald
Albert M. "Bo" Robinson
Jennye W. Stubblefield
Joseph F Yuhas
Landmarks Commission
Edwin F MacNicoll, I.FA., Chairperson
Robert E. Allen
Edward P. Chappen, M.D.
Morton Deitz, Esq.
Elizabeth English
Calpurnia R. Garcia
James Greenberg, A.I.A.
Hon. Arthur J. Holland
Lucius Jones
Department of Housing & Development
Thomas Ogren, Director
Division of Design & Construction
Richard Bartels, Director
Project Director
Daniel I. Vieyra
Project Coordinator
Martin H. Aurand
Project Team
Robert Bucchi
Gail J. Donnelly
Joy McCloughan
Marjorie Mathes
Rebecca Mitchell
Ronnie B. Weyl
Book Design
By George & Co.
This publication was made possible by an historic preservation grant-in-aid from the National Park Service, U.S. Department of the Interior administered by the State of New Jersey, Office of Historic Preservation, Department of Environmental Protection.
Up To Top / Home
The Society : About Us / Artifacts Committee / Education Committee / Preservation Committee / Membership / Contact Us / Events
Our History : Sights & Sounds / 1929 History / Old & New / Hill Diaries / Chronological Indexes / Trenton Made / Documents / Tours
Your Ancestors : Research Services / Obituaries / City Directories / High School Yearbooks / Cemeteries / Genealogy
The City : Buildings / Historic Districts / North Ward Survey / Street Names / Local Links
Search Our Site