Educational Records
Details about the beginnings of Trenton's private, public and parochial schools can be found in the Schools and Libraries Chapter of the 1929 History of Trenton. Records of students are scarce, but the Trentoniana Room of the Trenton Public Library does house some scattered items such as teacher's attendance/grade books from Trenton High School for the covering the years 1885 thru 1902 and files on teachers from the Lincoln School (Junior 5). Additionally, our High School Yearbooks page contains information on this great source for images of their graduates.
Trenton High School Teachers' Books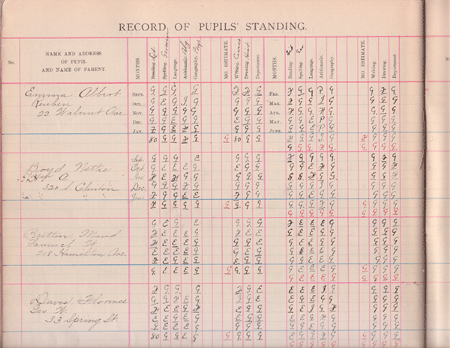 These handwritten notebooks have varying degrees of information that range from simple lists of names to grade records with parent's names and addresses. Members of the Central Jersey Genealogy Club have begun creating indexes for these records but this effort is in its early stages. Available are:
1893-1894 School Year (5 of 9 books)
1894-1895 School Year (4 of 6 books)
1898-1899 School Year (2 of 10 books)

Trenton Central High School's Sport Nite Programs
Starting in 1935, these event brochures are full of student's names.

New Lincoln School Teachers' Files
Personnel records from the twentieth century are indexed and provide glimpses into the lives of the teachers who staffed this important institution in Trenton's African American community.

Up To Top / Home
The Society : About Us / Artifacts Committee / Education Committee / Preservation Committee / Membership / Contact Us / Events
Our History : Sights & Sounds / 1929 History / Old & New / Hill Diaries / Chronological Indexes / Trenton Made / Documents / Tours
Your Ancestors : Research Services / Obituaries / City Directories / High School Yearbooks / Cemeteries / Genealogy
The City : Buildings / Historic Districts / North Ward Survey / Street Names / Local Links
Search Our Site